Here's some heart-warming feedback from our former ecovolunteers!
Testimonials from ecovolunteers in Madagascar
Let me just say again, because it feels good, that all the work you are doing and will continue to do is just marvellous in these so individualistic times. I have seen with my own eyes all your love for people and nature, with all the geographical and cultural complexities that implies. (…) You can always do things better or differently, but these days there are a lot of people who do nothing, so I salute your courage, your energy and your humility in the face of this major project. I have a lot of admiration for your work and, as my boyfriend often says, "The good guys always win!
Ecovolunteer February 2020
"All the warm exchanges with the locals, the looks, the smiles, the teamwork – it's unforgettable! I really needed to spend some time in nature, and I was looking for a way to get back to basics by doing something practical and useful. I was looking for a way to get back to basics, to do something practical and useful, to forget all the worries of everyday life, to eat, wash and sleep, and to work with people to get our various projects off the ground. What a wonderful lesson in life the villagers gave us, what strength, what joy! I was looking for authenticity and I was delighted! After an experience like this, you start to question a lot of things.
Ecovolunteer summer 2019
"The Tiazorambo mission in July 2019 was an ambitious one. Nevertheless, I think the result is magnificent. It required a few sacrifices on the part of the ecovolunteers, but as we all had to sweat to achieve this, I think that everyone left with a great deal of personal satisfaction. We were convinced that we had been able to help a population/village, to give them the keys to human development, to try and reduce the amount of harvesting in the neighbouring Makay, and to help put in place good environmental practices".
Ecovolunteer summer 2019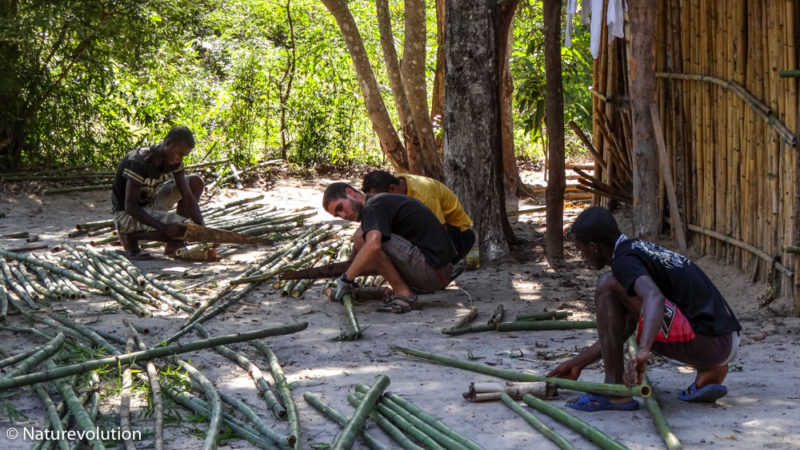 "I really enjoyed going deeper and deeper into the remote corners of Madagascar. I still remember that first sunset and the starry night, when there were no houses left. I stood there for a long time with my head in the air, watching the spectacle and enjoying the warm wind. I'll also remember the discussions with Evrard, who told us about his encounter with the Makay and the creation of the association. The return journey was great too, with friends instead of strangers in the 4×4.

We all learned a LOT, about the state of the world, the Makay, the association, organising expeditions and ourselves. We all learned a LOT, about the state of the world, the Makay, the association, organising expeditions and ourselves. A real example

It would be unfair to single out any particular points, but it was a total adventure: human, sporting and scientific. The feeling of exploration is truly exhilarating. The landscapes are breathtaking. The encounters change our outlook and make us better people."
Ecovolunteer April 2019 (explo)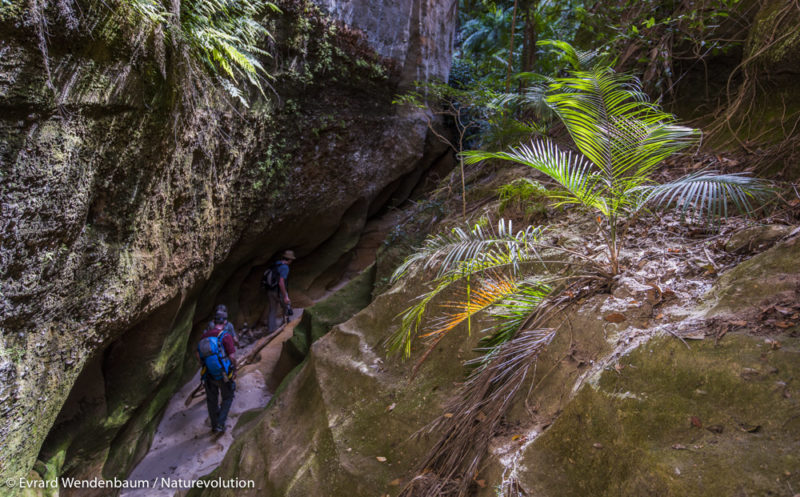 "I survived a physical and mental ordeal that I was experiencing for the first time in m
I met some wonderful people and had my retinas blown away by some fantastic views.
I've never eaten bananas with so much flavour. I haven't used a computer for 2 weeks without missing it. I've helped to save a wonderful massif.
When you put it all together, the conclusion is clear: the trip was clearly an abject failure!

Don't give up, it's wonderful what you're doing! My extreme virility prevents me from declaring my love for you, but all the same: thank you for everything! »
Ecovolunteer April 2019 (explo)
"I went on a trek with Naturevolution to Madagascar in November 2018.
This trip has had a huge impact on me. So much so, that I changed jobs a few months ago for one that makes more sense to me."
Ecovolunteer November 2018 (explo)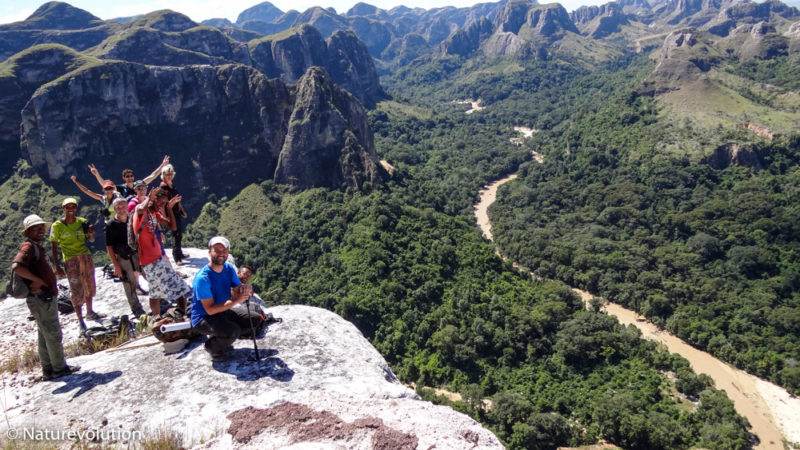 Testimonials from ecovolunteers in Indonesia
« It was my first experience of ecovolunteering. I enjoyed giving meaning to my trip, meeting people with extraordinary energy and projects at the other side of the world, becoming aware of the real problems that exist even in isolated places, I liked the physical commitment and the discomfort, just enough to come home and say to myself, finally, I could handle more… discovering an unknown self-control in the face of omnipresent wildlife… and experiencing unforgettable 'natural moments'. Thanks to Naturevolution »
Ecovolunteer october 2019
What do you remember?
– A great human experience
–The richness and diversity of the mission and everything we did and saw in 15 days
– Incredible places both on land and underwater
– Letting go and total disconnection
– Awareness of the difficulty and complexity of carrying out such vast conservation projects
– Convinced of the absolute necessity of carrying out and supporting these projects
Ecovolunteer august 2019
«A very rewarding trip, full of surprises. A discovery of a part of the world that opens our eyes and helps us ask the right questions. Unforgettable encounters and the discovery of extraordinary and rich flora and fauna.»
Ecovolunteer august 2019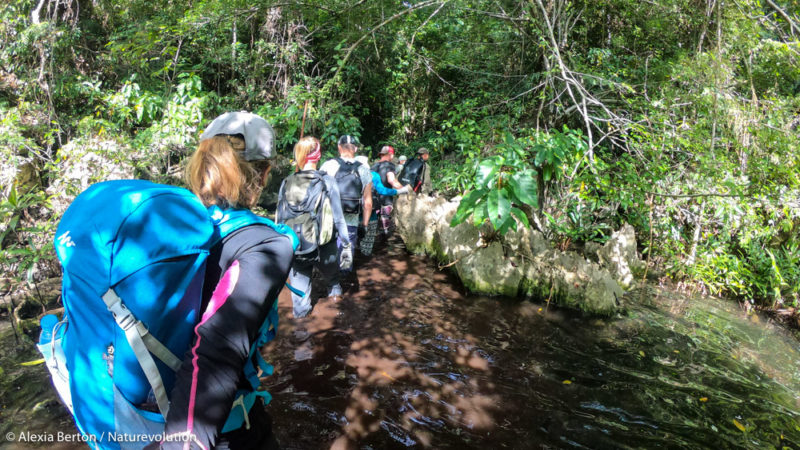 « It's been an incredible, unique and incredibly powerful experience, and a relevant one too, because I'm not just coming back with a heart full of memories, I'm also coming back with a head full of plans and determination, and an even stronger sense of purpose than before.

Living for 4 weeks in a tent, in the rain and wind, never having dry clothes, getting little sleep, suffering physically from constant and sustained effort, dealing with wounds that never heal, serving as a constant meal to hungry mosquitoes, not being able to look at rice any more because you eat it at every meal, feeling exhausted, etc., are the greatest sufferings to experience.

Because in the morning, you wake up in paradise, you open your tent and take in the sights, the sounds of the waves, you find your group waking up, your team, you have breakfast, you laugh, you get ready, with daylight that takes your breath away, you set off to lend a hand to this environment that fills you with wonder, a small gesture, that you repeat over and over again, that of picking up a plastic bottle, a piece of polystyrene, and you look around you, and you see your team doing the same gesture, and together you have cleaned up a beach, and you return the paradise to its only owner: this breathtaking nature that surrounds you! »
Ecovolunteer summer 2019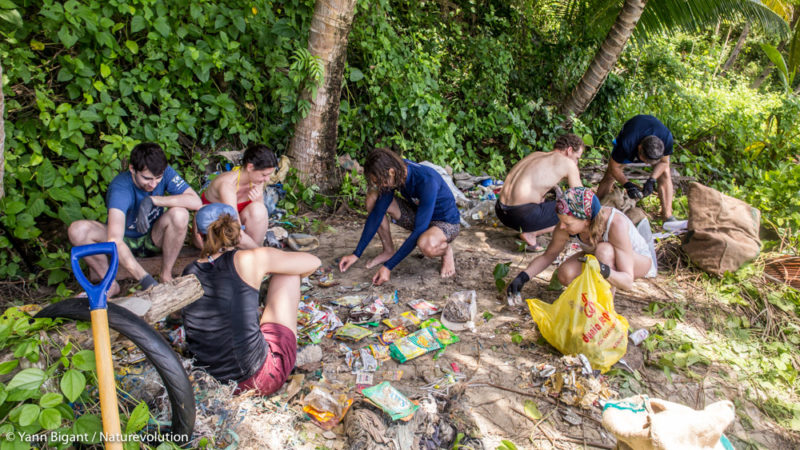 « Superb life experience, human experience. I feel very lucky to have been able to go to remote places, learn from them and camp in exceptional locations. It was magical!

All the locals I had the chance to talk to were as kind and generous as you rarely find back home. My only small frustration is not being able to communicate more easily in Indonesian…but, when you make the effort, with gestures, smiles (and the occasional help of google translate), you can already say a lot of things :)

I'll remember discovering a magnificent region that's still very much in the wild (although sadly polluted by all kinds of rubbish), I'll remember meeting wonderful people (and some unusual creatures too!), I'll remember sharing moments and smiles, I'll remember all those people who were curious to hear why we'd travelled all this way to clean up their beaches or to find out why we shouldn't throw away or burn anything. ) I'll remember the moments of sharing and smiles, I'll remember all those people who were curious to hear why we had come all this way to clean up their beaches or to find out why we shouldn't throw away or burn plastic, I'll also remember the looks on the faces of those people who must have taken us for aliens and who didn't really care why we were there;

But also, and above all, those emotional moments when we realised that everything we were doing wasn't completely in vain and that we'd been able to touch people (the 'sorting' bin made by Lyz at Koko Beach, the Indonesian tourist's testimony about the children of Mbokita who told him not to throw rubbish into the sea, etc.), and of course the extreme kindness of Philippe and Sergio…. and also the pisang goreng! In short, I've come back from this mission with my eyes and heart full of stars and, above all, with a furious desire to continue to get involved in these projects, to see how they develop (and even to take part in them!), and to have many more "useful adventures" ….
THANKS NATUREVOLUTION!!! »
Ecovolunteer summer 2018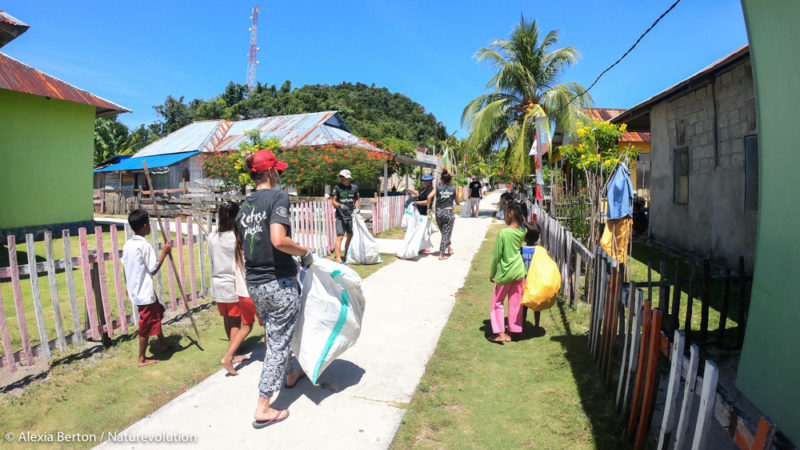 Where do these testimonials come from?
These testimonials are based on anonymous questionnaires that we send to all our ecovolunteers at the end of their assignment. We have been doing this since 2016 for our assignments in Madagascar, and since the launch of our assignments in Indonesia in 2018.
Most of the feedback has been extremely positive and enthusiastic, reinforcing our conviction, year after year, that these missions are not only useful for the projects, but also have an impact on the ecovolunteers (you!) that far exceeds our expectations.
As for the constructive criticism we receive via these questionnaires, it helps us to improve the organisation of our missions every year.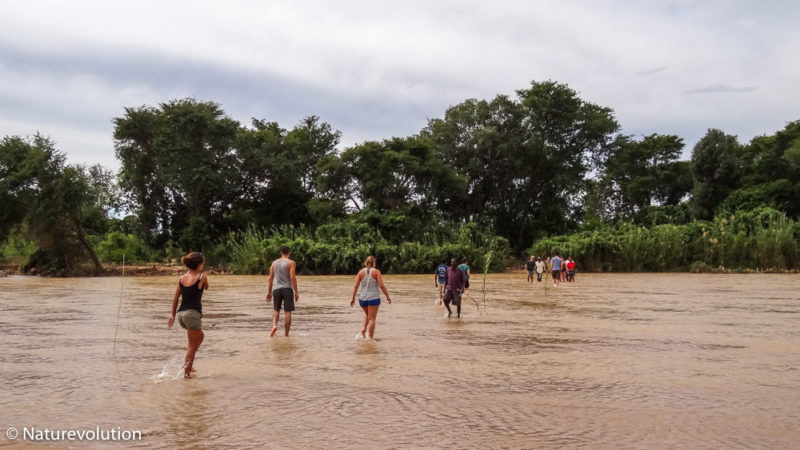 More experience feedback
From the pen of our ecovolunteers :
Articles written by the Naturevolution team on the activities carried out on the missions:
So, would you like to join us?
Find all the information about our ecovolunteer missions on the following pages: