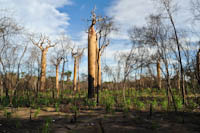 INVESTIGATION – Connaissez-vous Alexander von Bismarck ? Non, pourtant à l'instar de James Bond, c'est un espion qui sait prendre des risques. Mais lui ne le fait pas pour éviter une guerre nucléaire. Cet homme-là, ancien de la marine d'Angleterre et arrière petit neveu de Bismarck « le Grand » est le directeur exécutif de l'Agence d'investigation environnementale, une organisation militante internationale qui s'est engagée à rechercher et exposer les crimes contre l'environnement.
Alexander has over ten years of experience in environmental issues and policies.
Dans le documentaire « La mafia du bois. Enquête en forêt tropicale », diffusé sur Arte il y a quelques années, on le retrouve en espion écologique à Madagascar et en Chine pour mener des investigations sur le trafic ultra lucratif de bois de rose. Une action dangereuse mais nécessaire et malheureusement encore insuffisante.