Nous rêvons que le développement du tourisme soit un outil au service de leur préservation et non de leur dégradation. Afin que les espaces naturels restent des écosystèmes en bonne santé, le tourisme doit être un modèle de respect et d'éthique.
Si vous envisagez un voyage à l'étranger, sachez que Naturevolution mène des ecovolunteer missions toute l'année à Madagascar et en Indonésie. L'écovolontariat nous apporte une aide indispensable pour nos projets de préservation de quelques milieux naturels exceptionnels. Read more (in French)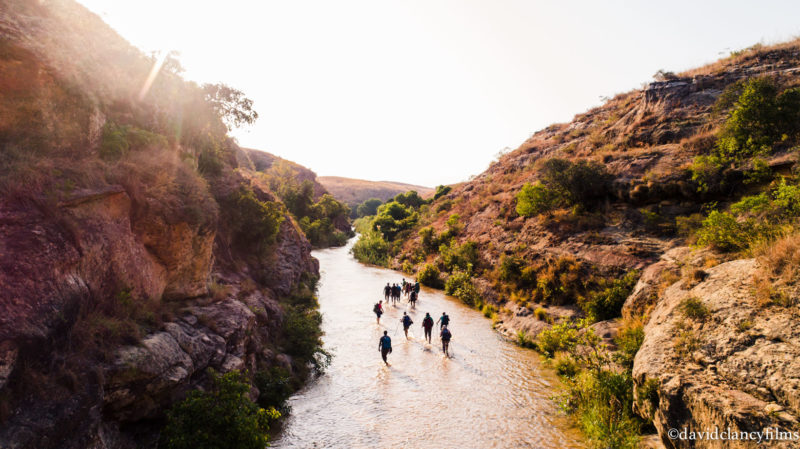 Nous invitons donc les futurs touristes, trekkeurs, aventuriers de tout poil, à adopter une attitude responsable and réduire le plus possible leur impact quand ils marchent, campent, piqueniquent, courent, pédalent, pagayent, etc. quelque soit le milieu naturel où ils évoluent.
Dans la lignée de la charte de l'écotourisme pour le Makay, nous proposons ici quelques réflexions sur la meilleure conduite à tenir dans la nature et dans les communautés locales visitées. Ces règles ont été initialement écrits avec the Makay massif en tête, mais elles sont valables ou adaptables pour tout espace naturel dans le monde. Ce ne sont pas des règles contraignantes, plutôt un état d'esprit qui permettra aux suivants de ressentir le même bonheur que nous lorsqu'ils pénétreront eux-mêmes dans ces régions magnifiques et envoutants.
Respect local customs and learning the rules and customs of the area you are visiting
Soyez préparés à négocier fermement avec les porteurs et dans la mesure du possible, ne cédez pas. Par respect pour les prochains visiteurs mais aussi et surtout pour les communautés locales, car donner plus fausserait totalement la valeur des choses et pourrait alors créer des conflits bien plus graves que quelques minutes d'intenses négociations.

Avoid angry and raise their voice.
Avoid approaching the tombs and graves, they are often taboos and the violation of these taboos can have catastrophic repercussions.
Avoid walking alone and spread your wealth in an ostentatious manner to prevent theft and assault.
Always ask before taking a photo.
Be patient, do not run.
Feel free to thank your carrier for a gift but do not give it for free in the villages, you may encourage begging.
Anticipate and plan your trip
Be prepared to deal with potentially extreme climates (heat, rain and tropical cyclones in particular) and the dangers associated with them (including floods).
Try to avoid the rainy season (November to April)
Traveling in small groups if possible.
Recondition your food to reduce packaging and waste.
Use a map, compass and GPS to avoid the use of cairns and other markings.
Pay attention to where you walk and camp
Book the majority of your activities in areas where vegetation is absent, trails, camping sites, the boulders, gravel and other rocky areas.
Protect the possible camping in the banks at least 60 meters from a lake or river.
Good campsites are often already, no need to alter a new site.
Always walk on the trails already exist, even when wet or muddy.
Keep campsites as small as possible.
Get rid of your waste properly
If you bring waste them win.
Make your needs in a hole 15cm deep minimum at least 60m of a river, campsite or trail.
Do not burn your toilet paper and do not leave the ground.
Or to wash the dishes, bring water for more than 60m of a river or lake, and use small amounts of biodegradable soap.
Preserve the past: look, look, but do not touch the archaeological remains.
Leave rocks, plants and other natural objects as you find them.
Never push non-native species.
Do not build anything, do not dig anything.
Minimize the impact of campfires
Campfires have a significant impact on the long term.
If lights have already been made, reuse the same location.
Prefer small fires, large flames are useless for cooking.
Burn all wood and coals to get ashes.
Always observe the animals from a distance.
Do not feed the animals.
Protect wildlife by storing your food carefully.
Leave your pets at home.
Avoid contact with wild animals sensitive period such as nesting, rearing young.
Let the sounds of nature prevail.