We dream that the tourism development or a tool at the service of their preservation and not of their degradation. In order for natural spaces to remain healthy ecosystems, tourism must be a model of respect and ethics.
If you are planning a trip abroad, be aware that Naturevolution carries out ecovolunteer missions all year round in Madagascar and Indonesia. Eco-volunteering provides us with essential help for our projects to preserve some exceptional natural environments. Read more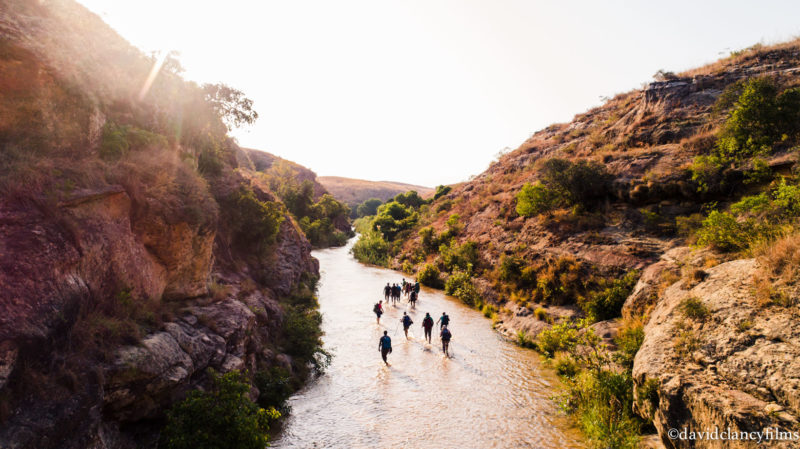 We therefore invite future tourists, trekkers, adventurers of all stripes, to adopt a responsible attitude and minimize their impact when they are walking, camping, picnicking, running, pedaling, paddling, etc. whatever the natural environment where they evolve.
In line with the ecotourism charter for the Makay, we offer here some thoughts on the better behavior in nature and in the local communities visited. These rules were originally written with the Makay massif in mind, but they are valid or adaptable for any natural space in the world. These are not hard and fast rules, rather a state of mind that will allow followers to feel the same happiness as we do when they enter these beautiful and captivating regions themselves.
Respect local customs and learning the rules and customs of the area you are visiting
Be prepared to negotiate firmly with the porters and if possible, stick to it. Out of respect for future visitors but also and above all for local communities, because giving more would totally distort the value of things and could then create much more serious conflicts than a few minutes of intense negotiations.
Avoid angry and raise their voice.
Avoid approaching the tombs and graves, they are often taboos and the violation of these taboos can have catastrophic repercussions.
Avoid walking alone and spread your wealth in an ostentatious manner to prevent theft and assault.
Always ask before taking a photo.
Be patient, do not run.
Feel free to thank your carrier for a gift but do not give it for free in the villages, you may encourage begging.
Anticipate and plan your trip
Be prepared to deal with potentially extreme climates (heat, rain and tropical cyclones in particular) and the dangers associated with them (including floods).
Try to avoid the rainy season (November to April)
Traveling in small groups if possible.
Recondition your food to reduce packaging and waste.
Use a map, compass and GPS to avoid the use of cairns and other markings.
Pay attention to where you walk and camp
Book the majority of your activities in areas where vegetation is absent, trails, camping sites, the boulders, gravel and other rocky areas.
Protect the possible camping in the banks at least 60 meters from a lake or river.
Good campsites are often already, no need to alter a new site.
Always walk on the trails already exist, even when wet or muddy.
Keep campsites as small as possible.
Get rid of your waste properly
If you bring waste them win.
Make your needs in a hole 15cm deep minimum at least 60m of a river, campsite or trail.
Do not burn your toilet paper and do not leave the ground.
Or to wash the dishes, bring water for more than 60m of a river or lake, and use small amounts of biodegradable soap.
Preserve the past: look, look, but do not touch the archaeological remains.
Leave rocks, plants and other natural objects as you find them.
Never push non-native species.
Do not build anything, do not dig anything.
Minimize the impact of campfires
Campfires have a significant impact on the long term.
If lights have already been made, reuse the same location.
Prefer small fires, large flames are useless for cooking.
Burn all wood and coals to get ashes.
Always observe the animals from a distance.
Do not feed the animals.
Protect wildlife by storing your food carefully.
Leave your pets at home.
Avoid contact with wild animals sensitive period such as nesting, rearing young.
Let the sounds of nature prevail.