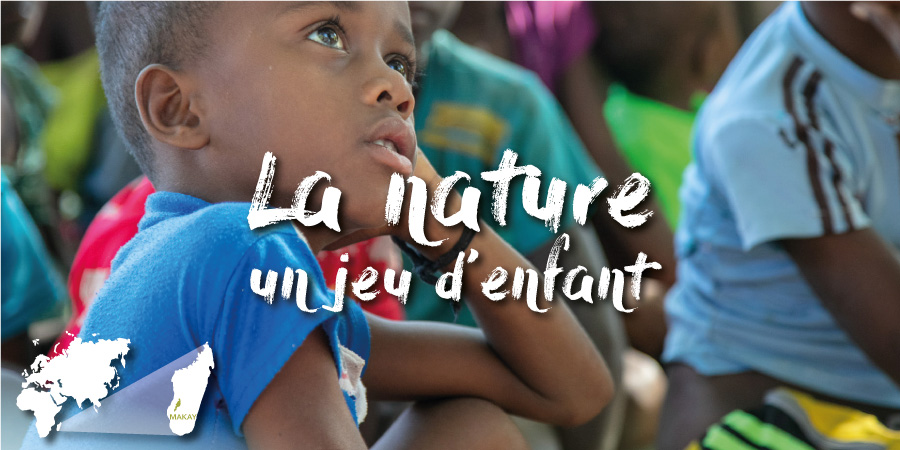 Tools and environmental leaders to protect the Makay
Project:
La nature, un jeu d'enfant
The "Nature, child's play" project aims to obtain a voluntary commitment from local communities in favor of the conservation of Makay and respectful management of natural resources. Using playful and interactive educational materials, facilitators will carry out awareness-raising missions - especially with children - in order to transmit general knowledge in ecology. These will allow an understanding of the functioning of ecosystems and global ecological issues.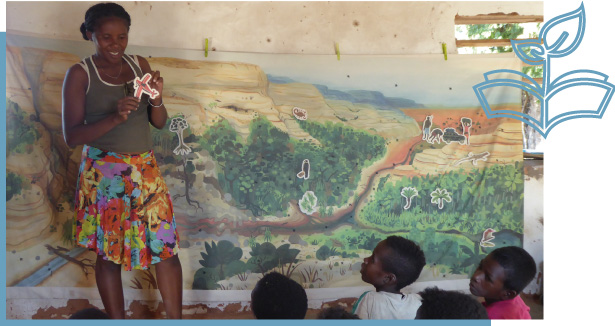 An emergency context
The island of Madagascar is of exceptional biological richness. Unfortunately, the vast majority of its forest cover having disappeared, this unique biodiversity is now only found in rare, still preserved environments such as the Makay, a spectacular massif of ruiniform sandstone that has become a real safe for nature.
Unfortunately, due to the bankruptcy of the education system, the villagers of Makay do not know the causal links between the degradation of nature and the deterioration of their living conditions (difficulties in eating and accessing water ). They then reproduce ancestral practices that are particularly harmful to the environment (poaching, bush fires, clearing and excessive cutting). So, the massif is now seeing its forest cover drastically diminishing putting many species and hundreds of thousands of human lives at risk.
Les habitants du Makay ont une grande connaissance pratique des plantes et des animaux qui les entourent et dont ils dépendent. Cependant, la préservation du massif ne passera que par une compréhension du fonctionnement des écosystèmes et des enjeux écologiques globaux ainsi que par un engagement volontaire de leur part en faveur de la conservation.
« Des missions de sensibilisation pour permettre une meilleure compréhension du fonctionnement des écosystèmes et des enjeux écologiques »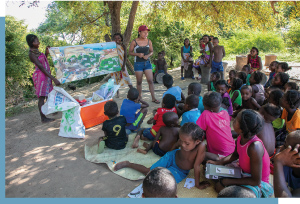 nos objectifs
Rendre évidente

l'interdépendance de l'Homme et de son environnement

Faire évoluer les pratiques

(sustainable water management, rational use of wood, sorting and waste management, respect for wild animals, etc.)
Obtain a voluntary commitment from local communities in favor of the conservation of Makay
Transmit general ecological knowledge (the importance of trees and forests, the role of biodiversity, ecosystem services, the water cycle, etc.)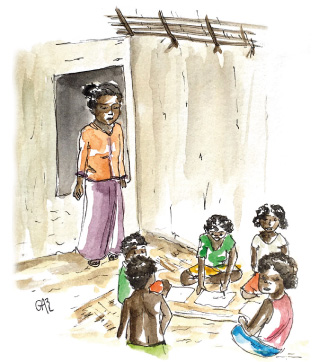 Notre mÉthode
We have made an educational trunk for children. This, made up of games, coloring, frescoes, models, posters, arouses wonder and awakens the richness and fragility of nature. It is used today by animators to present environmental issues in general and those specific to Makay in particular.
With the help of local teachers, the facilitators concentrate their efforts on the youngest because they are more available and more inclined than their elders to welcome the contributions of knowledge. In addition, the youngest turn out to be good contacts with adults. These interventions take place in the form of3-4 hour workshops per grade level and over ten days on average per village.
Our field experience has shown us that some adults, especially mothers, are also eager to learn and understand. Too, awareness tools adapted to adults are also designed from existing media (films and PowerPoint presentations) and also give rise to specific interventions.
We wish we could allow 4 facilitators to carry out these awareness-raising efforts throughout the year in around sixty localities around the massif.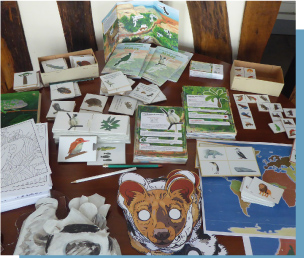 « Des supports pédagogiques ludiques et interactifs, pour obtenir un engagement en faveur de la conservation du Makay et une gestion respectueuse des ressources naturelles »
nos besoins
Budget cette année : 30 000€
Nous avons besoin d'un investissement initial afin de compléter et dupliquer notre malle pédagogique "jeune public", de concevoir des outils de sensibilisation à destination du public adulte et de former 2 binômes d'animateurs·trices en environnement.
Nous avons également besoin d'un soutien plus régulier permettant de financer leurs salaires et de couvrir leurs frais de mission.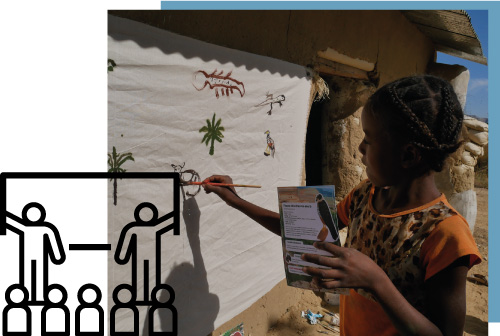 Funding scale:
La duplication d'une malle :

2 000 €

Les salaires annuels pour les 4 animateurs :

10 000 €

All the missions: € 20,000 / year (includes logistics and salaries for 4 animators)
beneficiaries
This project primarily benefits children from all the villages around Makay. But it also benefits to adults to whom the children's learning is naturally transmitted at home and who also benefit from dedicated training and workshops throughout the year. Thus informed, the entire population is called upon to change its practices, to coexist more harmoniously with its environment and to guarantee a more sustainable future for all.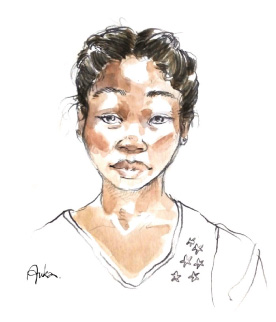 Why support us?
To contribute to:
support the dissemination of knowledge on biodiversity
help design appropriate awareness tools
contribute to improving the management of natural resources
Who we are
Naturevolution, at the origin of the creation of the New Protected Area of ​​Makay, is today the manager mandated by the Ministry of Environment and Sustainable Development of Madagascar.
In order to respond to all the threats weighing on the massif, its biodiversity and its populations, the association deploys an ecosystem of complementary initiatives ranging from awareness-raising, to humanitarian aid, including agroecological diversification, development of sustainable economic alternatives such as ecotourism, but also scientific research and reforestation.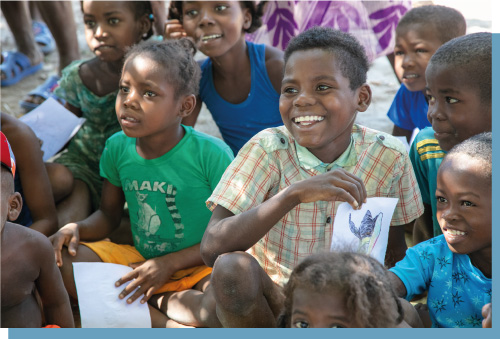 Our support
We are still looking for funding for this project.
Help us to carry it out by contributing!
Project news