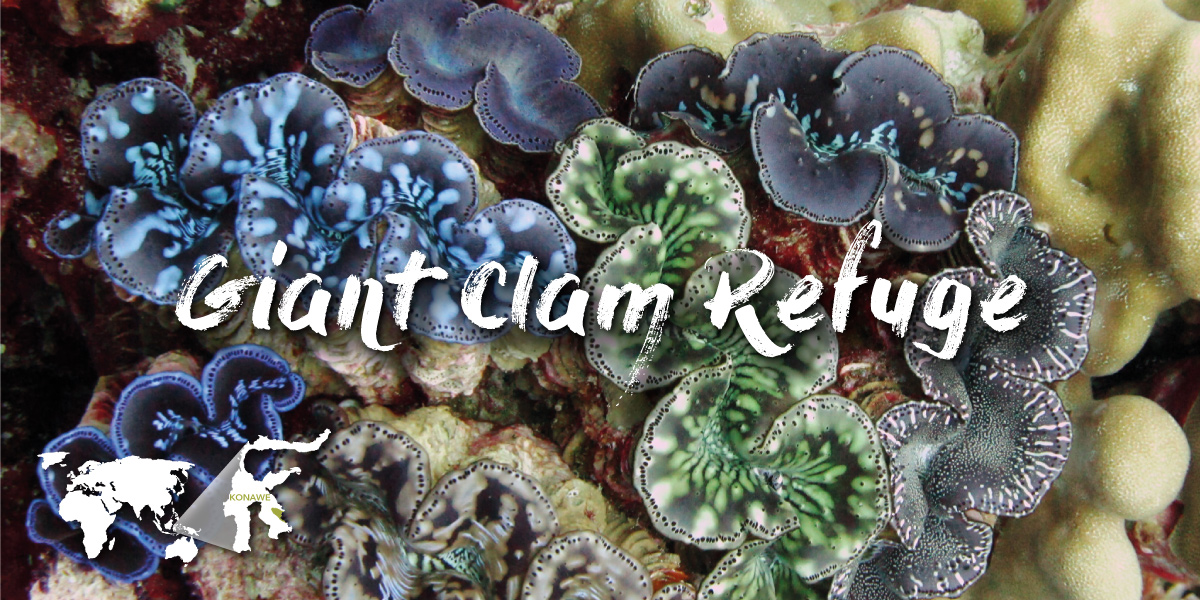 For the protection of Giant Clams and the rich Coral Reefs of Sulawesi
Project:
Giant Clam Refuge
The coral triangle of which the island of Sulawesi (formerly Celebes) is the richest site on the planet in giant clams, extraordinary animals - the largest bivalves in the world - and essential to the good health of coral ecosystems and to the populations that depend on it. However, the latter are becoming increasingly rare. In question: the general degradation of the coral reefs but also an excessive collection of these mollusks, however officially protected in Indonesia, by the fishermen of the surrounding villages.
Campagne d'appel aux dons terminé
Grace aux dons de particuliers et de partenaires, nous avons réussi à atteindre l'objectif de cette campagne et allons donc pouvoir concrétiser ce magnifique projet en 2021 !

Soutenir nos autres projets en faveur de la préservation des littoraux du sud-est de Sulawesi :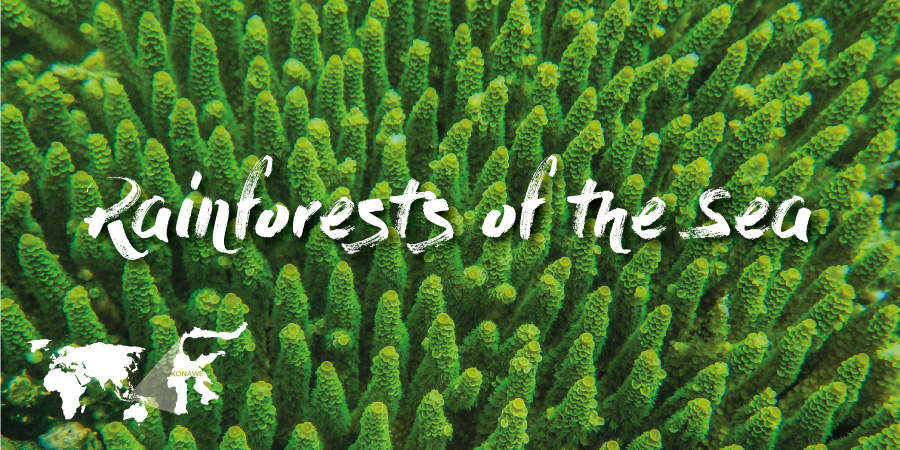 For the protection of Giant Clams and the rich Coral Reefs of Sulawesi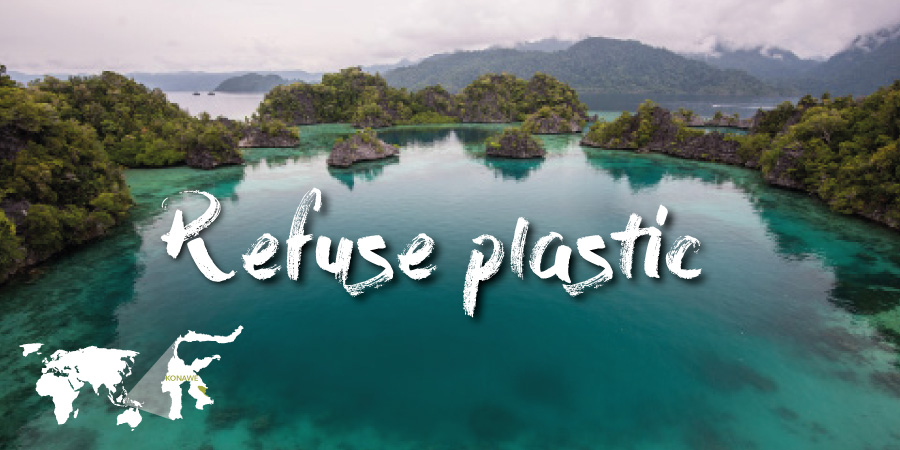 Prévention de la pollution océanique et recyclage des déchets à Sulawesi
Our "Giant Clam Refuge" project aims to create a sanctuary for these endangered animals in the south-east of Sulawesi. In addition, this reserve of giant clams will increase their reproduction rate and will have a beneficial effect on all the reefs in the region. Finally, through its potential for attracting tourists, it will provide additional income for the surrounding communities.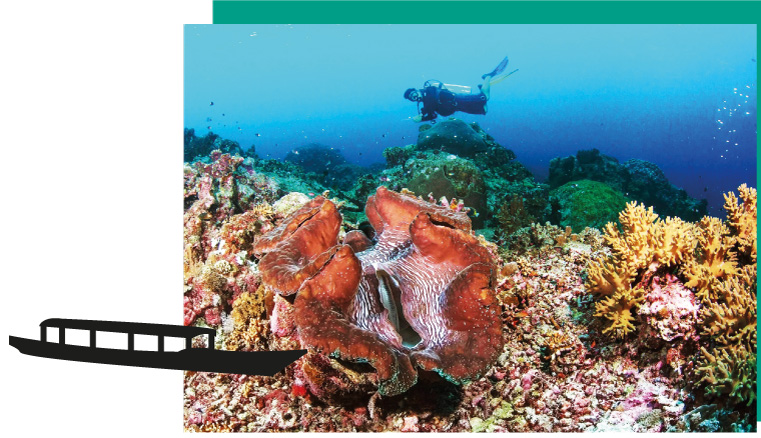 A shell like no other
Among the largest seashells in the world, giant clams can live over 100 years, regularly exceed one meter in length and weigh several hundred kilograms.
There are a dozen species of giant clams which have a very wide geographical distribution, ranging from coral reefs in the western Pacific to the Red Sea, passing through the Indian Ocean. But it is in Asia and in particular on the island of Sulawesi - where they are called "kima" - that thewe find the greatest number of species of giant clams (8 species - maybe even 9), from the smallest to the largest.
Living to a depth of about 20 meters, giant clams perform very important functions in coral reefs and play a major role in their good health. These are indeed all at the same time reef builders and shapers, food factories, shelters, algae reservoirs and especially water filters extremely effective. A single giant clam can thus filter several m3 of seawater each day and helps maintain a healthy environment for other species. Better yet, they accelerate the regeneration of degraded reefs.
So they are essential for the good health of coral reefs which are home to 25% of the marine biodiversity of our planet.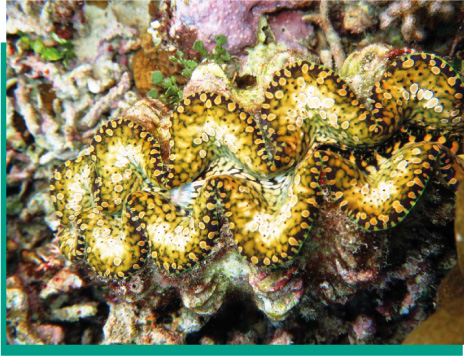 "Giant clams are one of the most endangered species of molluscs today"
A context of absolute urgency
Unfortunately giant clams are now one of the species of most endangered molluscs (classified as Vulnerable by IUCN) and several species have already been completely eradicated from some countries.
In Indonesia, although all species are officially protected and prohibited from fishing, given the size of these animals and the virtual absence of surveillance patrols even in protected areas, the temptation is great for fishermen in the surrounding villages to take a few for their meals. Beyond this local use, giant clams are poached for the aquarium hobby, for consumption in restaurants, and as a substitute for ivory for the making of luxury ornaments, especially in China.
Finally, two other threats weigh, not only on the giant clams, but on all the reefs in our region of intervention: runoff from nickel mines, very numerous in the area, which suffocate the reefs under several centimeters of sediment and phytosanitary treatments extremely harmful palm oil plantations located nearby, which end their race in the ocean.
For more details, see our page on threats to Sulawesi ecosystems.
All these degradations have dramatic consequences on marine ecosystems and the well-being of the local population. The disappearance of coral reefs is indeed leading to the depletion of fish stocks, endangering the food and economic resources of millions of inhabitants in the long term, as well as to accelerated erosion of the coastline.
Unfortunately, the means implemented to preserve these animals and their ecosystems are largely insufficient or even completely non-existent, including within marine protected areas.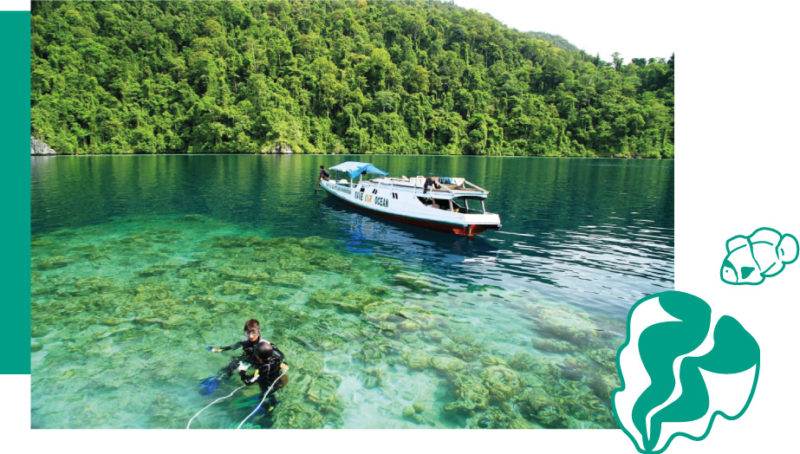 Genesis of the project
The Indonesian association Toli Toli Giant Clam Conservation based in the small coastal village of Toli Toli in southeast Sulawesi, made up of divers concerned about the rapid disappearance of giant clams on the region's reefs, was the first giant clam conservation association in Indonesia.
In 2009, after having identified and delimited, in agreement with local fishermen, a perimeter conducive to the development of giant clams, the Toli Toli Giant Clam Conservation team established a first clam grouping site in an area easy to monitor.
A few years later, they are nearly 8,000 giant clams of 8 different species (+1 potential new species / local variation) and of various sizes, as well as various other marine animals (starfish, sea cucumbers, anemones, etc.) from neighboring drop offs which have been welcomed and which escaped illegal fishing.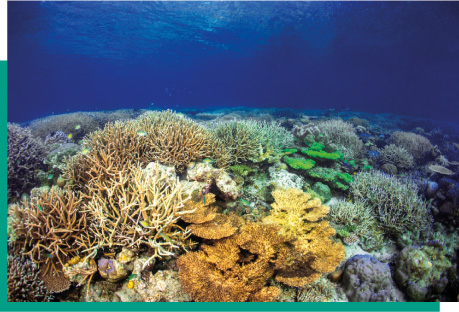 "Protecting giant clams from illegal fishing"
"A marine nursery to allow increased reproduction"
Objective of the project
With the idea of ​​continuing efforts to conserve giant clams, Toli Toli and Naturevolution wish to duplicate this initiative in 2021 by creating a second sanctuary managed in a community way. Located on the side of Labengki Island, it will aim to protect the existing giant clams from illegal fishing by bringing together several thousand individuals on this new site. This real marine nursery will allow increased breeding and wider swarming of giant clams, benefiting all reefs in the marine corridor in Southeast Sulawesi.
It will also aim to become a privileged place for Scientific Research on the clams and a vector of awareness villagers and local fishermen urgently need to protect these animals and their environment.
Finally, as new tourist asset for the region, it will generate additional income for local communities.
Site location
Toli Toli and Naturevolution have identified in recent years, during observation dives carried out with the help of ecovolunteers, a sector particularly suited to the creation of this new refuge.
Validated as a no-take zone by the villagers and the manager of the Marine Protected Area (BKSDA Sultra), the refuge will be located on the edge of Labengki Island, within the Teluk Lasolo Marine Protected Area.
Method
For 3 months, using a boat, giant clams located in fishing areas will be relocated to the protected area thanks to the work of 3 specialized divers.
In parallel, in collaboration with the official manager of marine protected areas of the province of Sulawesi Tenggara, our coordinator will animate free training in monitoring giant clam populations and more generally to the management of this community reserve to a group of volunteer villagers from Labengki village. Responsible for site monitoring and management, they will also be the only ones authorized to accompany tourists in the area. Entrance fees and income generated by this guiding activity ensure the sustainability of the project.
Carried out by the project coordinator, awareness actions will also be offered to locals through village meetings and school interventions to promote sustainable management of natural resources.
Finally, information panels will be placed near the site and flyers will be produced to inform and raise awareness among passing tourists.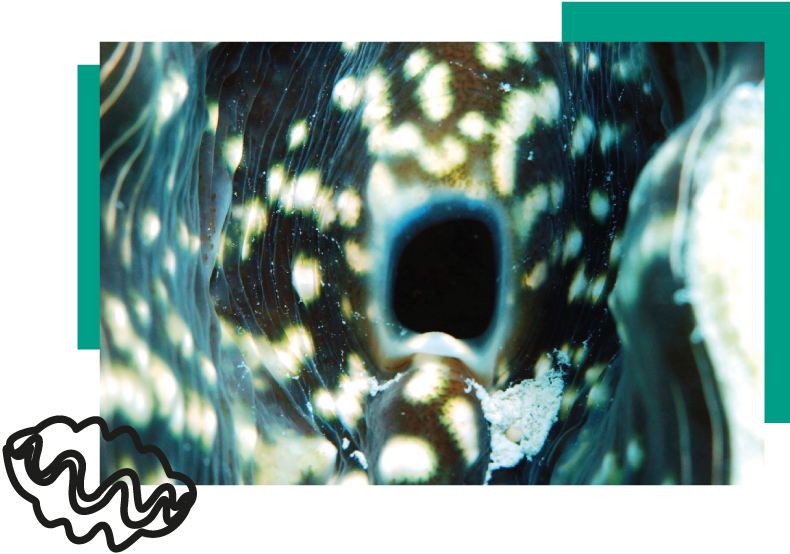 Our needs
We need funds for finance the relocation of giant clams, training of locals, actions to develop sustainable and local tourism, and the creation of awareness-raising materials.
We also need to fund human resources required: 1 coordinator (also diver), 1 captain and his second as well as 2 divers.
Funding scale:
10 giant clams relocated : 35 €
1 awareness workshop in the villages (2 days): 250 €
The monthly salary of a diver : 275€
1 formation (5 days): 650 €
The design and installation of information panels : 1000 €
All of diving equipment necessary: ​​5200 €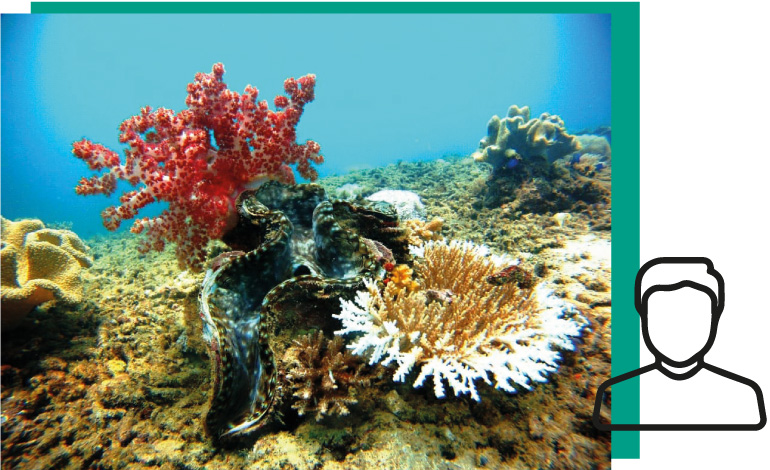 Beneficiaries
This project will directly benefit:
5 employees of Naturevolution Indonesia and Toli Toli in charge of the development of this project (1 diver project manager, 2 divers, 1 boat captain and his second);
The villagers of Labengki who will benefit from training, awareness-raising actions but also from a new ecotourism spot that they will be able to promote economically;
About 5,000 people spread over ten villages of the south-eastern Sulawesian coast which will benefit on the one hand from awareness campaigns but above all from the preservation of the fishery resources on which they depend.
Why support us
You wish :
participate in the preservation of an emblematic species and marine biodiversity
contribute to improve the use of natural resources
help to the fight against food insecurity
participate in the restoration of a coral reef
"Food diversification as a solution to stop deforestation and avoid subsistence poaching"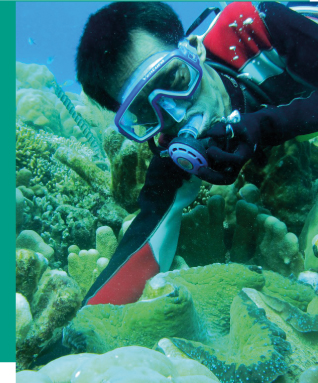 Who we are
Since 2014, Naturevolution work at Sulawesi the preservation of karst ecosystems exceptionally rich in biodiversity.
In order to respond to the threats to this region, its biodiversity and its populations, the association is setting up - together with the authorities and local communities as well as a network of scientific institutions and conservation actors - a wide range of initiatives ranging from the creation of protected areas to waste management, including awareness-raising, advocacy, the restoration of degraded forest and coral ecosystems, scientific research or the development of activities generating income.
Since 2018, Toli Toli Giant Clam Conservation has become our main partner in Indonesia and today we work together to preserve the coral reefs in the region. Toli Toli's expertise, experience and network are valuable assets for moving forward.
They already support us
We are still looking for funding for this project.
Help us to carry it out by contributing!
Project news