A 150 x 50 km massif, made up of the products of the erosion of immense massifs of crystalline rocks that disappeared several hundred million years ago, the Makay is one of the most monumental works of nature ever.
In the patchwork of diverse ecosystems in Madagascar There are still some very little explored, little exploited and low human density areas, with a strong potential for new discoveries. The Makay massif is one of them as an emblem of Terra Incognita. Even in Madagascar, few people know of the existence of this ruiniform relief.
A huge labyrinth carved by erosion
This yellow sandstone massif, located in the center-west of the island, has high plateaus still covered, in part, by forest or shrub / herbaceous vegetation typical of the dry environments of western Madagascar. Insane erosion has cut into these plateaus of deep canyons containing wet-type vegetation reminiscent of the evergreen forests of eastern Madagascar. These isolated biotopes, untouched by human observation, allowed groups of ancestral animals and plants to occupy all possible ecological niches and to differentiate themselves to the point of giving birth to new species.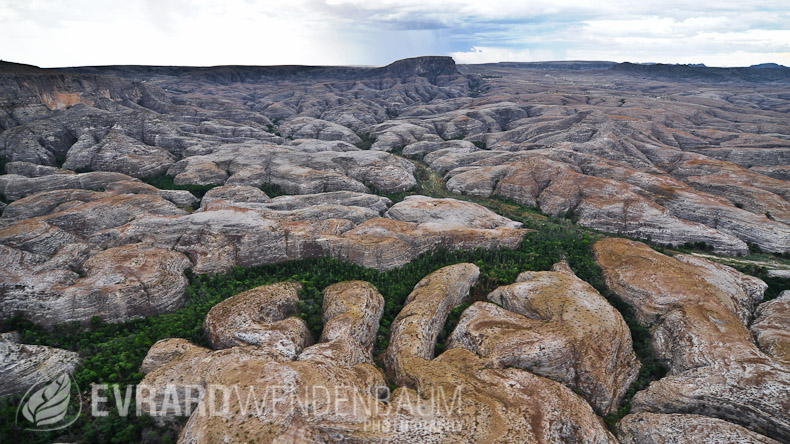 A threatened biodiversity sanctuary
The Makay has thus become a true safe for nature, a sanctuary of some of the most curious species on the planet. Its isolation and the peculiarities of its relief have until recently been an obstacle to the implementation of scientific studies. But if until now, it has been able to take advantage of its relief inappropriate to man to preserve its treasures, the dramatic increase of wildfires that Madagascar has suffered in recent years threatens its survival even more.
To find out more
From a decade, Naturevolution acts for the protection of the Makay. Four scientific expeditions multidisciplinary teams have provided proof of the exceptional richness of the massif and the images necessary for its enhancement, resulting in the creation of a Protected Area. At the same time, we have set up several a conservation strategy aimed at preserving the ecosystems of Makay and improving local living conditions.
The website of theProtected Area of ​​Makay contains information on the massif and its inhabitants, travel conditions to visit it, the commitments of the manager and tourism operators, and much more. If you want to help us protect this unique place in the world, donate to the Makay project or come join us during a mission in the field.