We offer throughout the year Missions d'Ecovolontariat
to help us protect the Makay massif.
If you share our values and feel concerned about the causes we fight for, come and join us in the field ! Not only will you help protect biodiversity and provide better living conditions to remote communitiesbut you will also live a moment out of time, make unforgettable meetings, observe wonderful animals and explore ecovolunteer missions are made for you!
Schedule assignments 2020 is online!
With the beautiful dynamics of 2019, there has been beautiful developments ecovolunteers in our missions. Find all the information below and feel free to pre-register at the bottom of this page to go with us. Our missions March-April were canceled due to the outbreak of coronavirus, but we especially need you the rest of the year!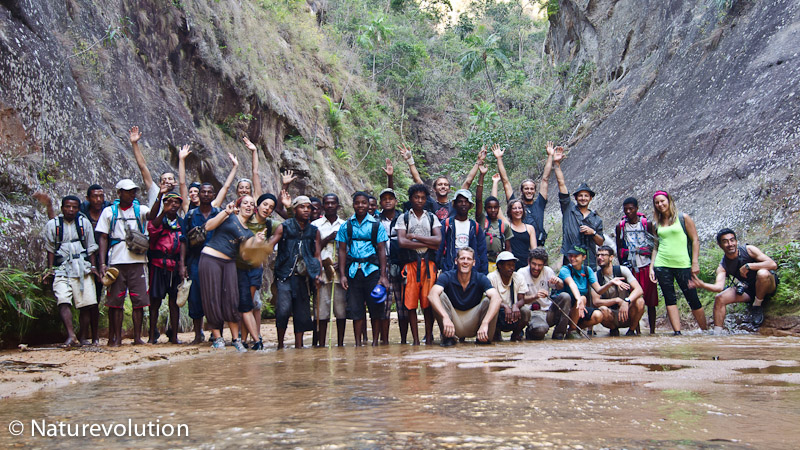 Why come with us ?
Our missions allow you to discover the Makay massif, one of most beautiful place on the planet, side by side with people who knows it in depth,
They ensure you will be able to watch several species of lemurs.
They can live a disconnection and a rare healing and beneficial

au rythme de la nature et des chants des oiseaux de la forêt, une expérience de vie intense et inoubliable.

Elles vous apprennent beaucoup, sur la nature, sur la culture malgache, mais aussi sur les enjeux environnementaux et sociétaux des pays en voie de développement, ainsi que sur le quotidien d'une association de conservation.

Elles permettent des rencontres riches et ouvrent la porte à des liens d'amitié très forts.

Elles peuvent entrer dans le cadre d'un stage de fin d'étude

si vous êtes étudiant.

Elles peuvent être financées par des donateurs (voir

Crowdfunding).
Or because you're fed up with living outside the law ;-) Indeed, the charter of the environment in the French Constitution declares that the environment is the common heritage of humankind and that "everyone has a duty to take part in preserving and improving [it]".
Our missions allow to make a "useful journey 'since 2012, ecovolunteers missions leads Naturevolution helped finance a significant portion of our conservation activities and assistance to communities Makay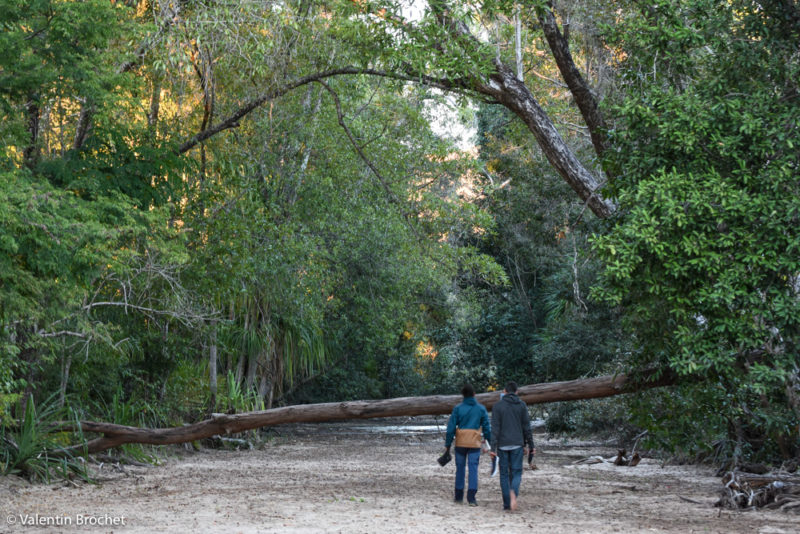 Where do we work ?
Since 2010, Naturevolution works in the Makay massif in the southwest of Madagascar.
How we work
Our projects in the Makay aim at protecting on the long term the natural environment of the Makay and developing ways for local people live better and in harmony with their environment. Certains projets sont menés au cœur du massif tandis que d'autres se déroulent dans les villages environnants, à quelques heures de marche des canyons du Makay.
We offer 3 types of ecovolunteers missions, different times of the year :
Solidarity and support to local development
These missions focus on environmental awareness, education, income-generating activities such as beekeeping (hive construction) and ecotourism, the creation of vegetable gardens and nurseries, waste cleaning, etc. These missions take place in or near villages. Learn more about our solidarity missions with local development.
citizen science
These missions are designed to carry, with researchers tracking operations or inventory the biodiversity of Makay, to assist researchers in their work and even carry out archaeological surveys or improve mapping Makay. These missions take place from a fixed base camp established in the massif. Learn more about our citizen science missions.
scientific exploration
These missions are designed to search for missing cash or rarely observed, as well as an inventory of archaeological sites in the Makay. They take place when roaming in the mountains and we also improve our knowledge of the massive remote places and to keep a watch. Learn more about our scientific exploration missions.
"In all our missions, about two thirds of your time in the field will be devoted to projects. The rest will be dedicated to the discovery of the still largely unexplored paradise of Makay when trekking accompanied by our specialists "
To note :
The list of the projects we will work on is only decided 2 months before a given mission, as it depends on both the priorities and urgent needs at the time of the mission, and on the numbers of volunteers registered.
Naturevolution retains the right to change the order and the list of actions to take place during the missions until the day of departure to accommodate local needs and unforeseen events.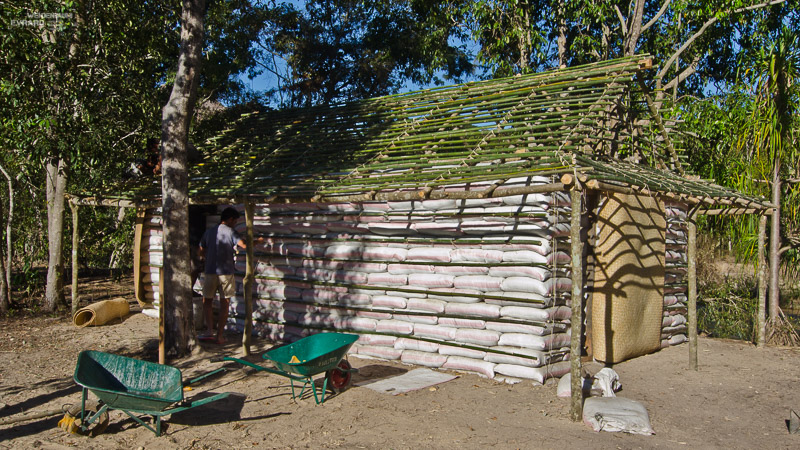 How do we live on the ground?
We camp under individual tents
Volunteer work is done usually outdoor (or, in case of rain, which is extremely rare at this season, under large expedition tents brought by Naturevolution)
We eat supplies brought from Tana (the capital city), supplemented by local products brought by the villagers (depending on the season : mangoes, bananas, tomatoes, muttons, turkeys, chickens, guinea fowls, bushpigs, etc.). We prepare meals and do dishes all together,
We drink water from the rivers : the water comes straight out of the rocks, and we either filter it or boil it,
A few beers and soft drinks can be found in the villages,
Dry toilets and showers are set up in the forest.
"This life in the midst of nature is fairly comfortable and more importantly, a wellspring of friendships with a healthy dose of fun"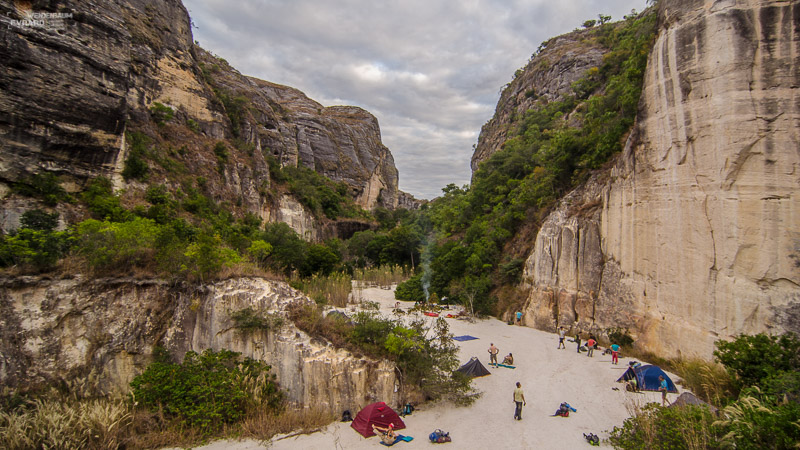 Who are the ecovolunteers?
We welcome all applications, regardless of age (starting from 18, or less if parents are present), skills or nationality, without any discrimination.
"Enthusiasm and motivation are all that matter."
No scientific background nor any diploma is required.
If you are a student, you can make your participation in our missions count as a required internship.
Some activities require a good physical condition, others call for being creative, and some ask for educational skills. Let us know your skills and your wishes and we'll do our best to offer activities that match.
The only requirements are that you are:
examined by a doctor before departure to ensure good physical condition
able to speak French or English
smiling and easy to live with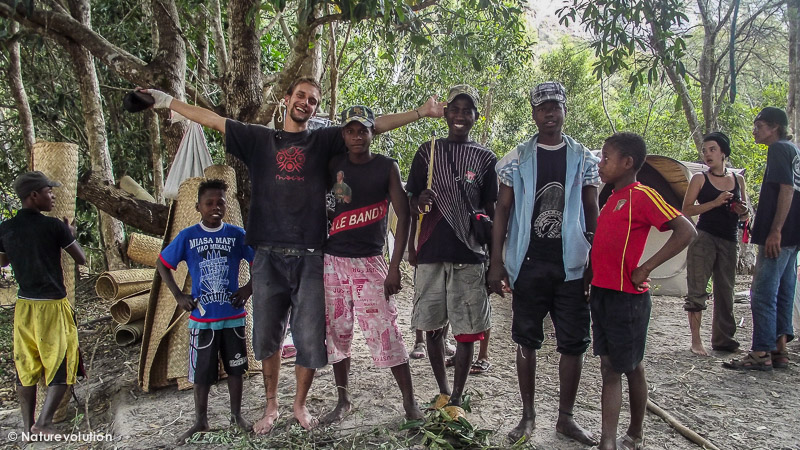 How long are the missions?
Our missions last of 2 to 6 weeks depending on the season.
This time is considered from Paris to Paris. Your presence on Malagasy soil will be respectively 13 days to travel 2 weeks, 20 days for travel 3 weeks or even 41 days for travel 6 weeks.
Be aware also that the lavish travel between the capital Antananarivo and the steep Makay can take only four days return when we go in northern Makay seasonally dry but can last much longer because of the runway conditions and the distance of the proposed work site. We prefer of course the shortest paths for the 2-week missions.
« Tout ou presque était nouveau pour moi. Beaucoup trop d'aspects positifs pour tous les énumérer, mais entre autres le cadre exceptionnel et préservé de pollution humaine, et l'apprentissage de la débrouillardise. »
– Témoignage d'écovolontaire, avril 2019 (mission explo)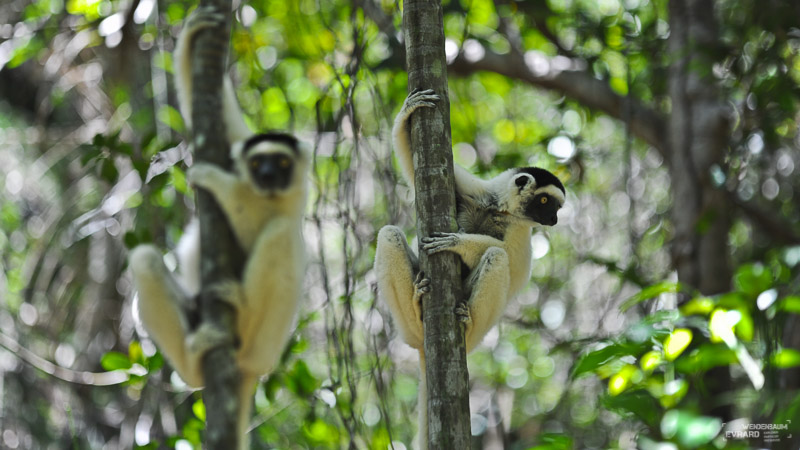 Dates and prices 2020
Find a brief description of the various types of mission in the paragraph How we work and a detailed description of the tasks on the corresponding pages: Support to local development ; Participatory science ; scientific exploration.
Missions 4 and 6 weeks ... what price?
As no part in the end of the world every day, we offer you to make 2 or 3 field missions in a row, and thus discover different aspects of our business. Here are some price components for these long missions:
Missions Support for local development: 4 weeks (2750 €) and 6 weeks (3700 €).
Participatory Science Missions: 4 weeks (3100 €).
Scientific Exploration Missions: 6 weeks (4950 €).
Combination of different missions -> contact us via the form below !
A noter:
The departures of our missions are guaranteed from 4 participants.
If you sign up for 2, rates are reduced by 8%, and 12% from 3 persons (except for already reduced prices).
Inspired? Get in touch! !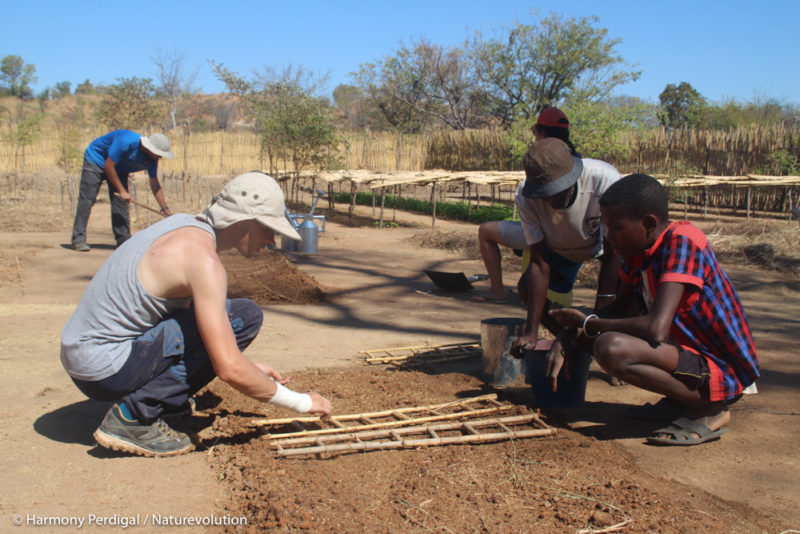 Distribution of the trip cost
Logistics costs include
* The transport, meals, accommodation at the hotel;
The Mission management team on site;
The equipment necessary for the realization of the mission;
Prior organization that everything happens for the best during your stay.
* Please note that transportation is our main cost item because :
the drive being quite long to reach the Makay, the fuel cost is relatively high;
the tracks are rough, which means we have to rent high quality cars which are more expensive, and almost each time we have extra repair costs;
For security reasons notably, we have to keep the vehicles with us for the whole duration of the trip, which increase the renting cost.
Management fees include
The monitoring and evaluation of results and impacts of the missions;
The missions promotional efforts;
The administrative processing of entries;
Repatriation insurance and liability;
Membership to Naturevolution.
Your donation to the conservation program will contribute, among other things, to
Salaries for project stakeholders on the ground throughout the year;
Research and development strategies and action means ultimately save Makay as a whole;
The movements of our teams needed to develop the project;
The daily actions of management and financing of research in France essential to the success of the conservation program.
Mission price does not include
International flight + airport taxes
Personal equipment (tent, clothes, shoes, sleeping bags, water bottle, backpack, headlamps, ...)
Antimalarial drugs and vaccines
The visa for Madagascar
Extra drinks, snacks and souvenirs
Accommodation at the hotel and any other expenses outside the official dates of the mission
Cancellation insurance
Tax exemption
The full cost of your mission, including airfare, is défiscalisable up to 66% for an individual of 75% if you are subject to the IFI and 60% for companies.
All tax exemption information can be found in the 'other questions' section below.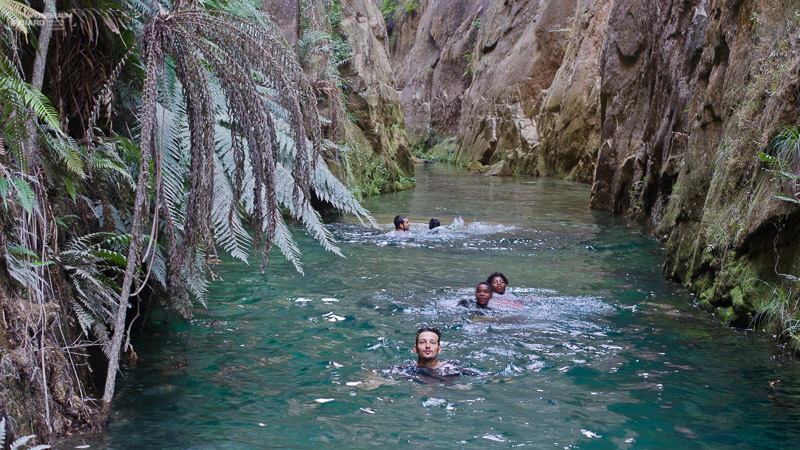 Crowdfunding
Dreaming but broke? Consider crowdfunding!
We offer a dedicated crowdfunding platform and personalized coaching to help raise the necessary funds to your surroundings, your networks or organizing fundraising events (craft sales, projections, etc.). To learn more, visit this link: Crowdfunding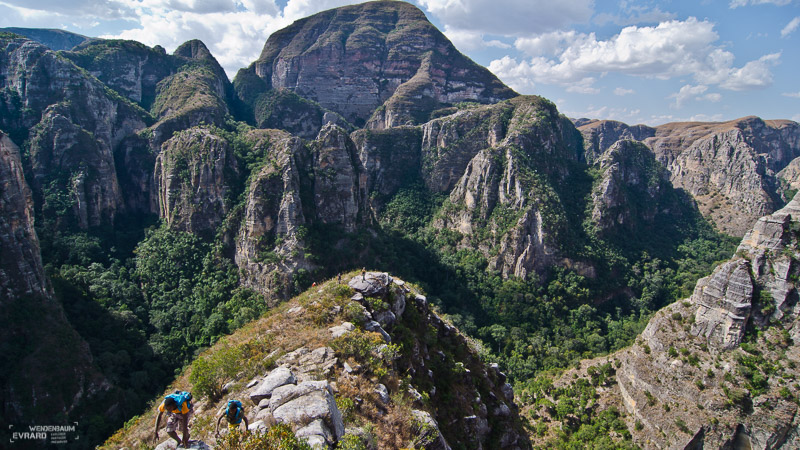 Other questions
Comien liquid money will I need?
On site, there will be few opportunities to spend money. Your biggest expenses might be a soda or a beer after a long day spent under the sun. Prices in Madagascar are never very high. We reckon that with 20€ per day of travel, and 5€ per day on site, you will be more than comfortable.

Do I need insurance?
Repatriation and civil liability insurance for the duration of the mission will be automatically contracted on your behalf with our insurer MAIF upon payment. You may take out additional insurance if you wish.

Do I need a visa?
How is the weather in the Makay ?
Madagascar is a huge island that spread north to south under several latitudes, as well as across several altitudes. Weather and temperatures can vary a lot depending on where you are on the island. There are two main seasons, a hot and humid season (November to March) and a dry season (April to October).
« From June to September in the Makay, you can expect cool temperature in the evening, especially when we camp near rivers. So make sure to bring along a good fleece and warm sleeping bag (0°C and even -5°C comfort limit). You may be happy to have beany too. »

How large will our group be?
We are usually no more than 15 volunteers on a mission. It can happen that we are a larger group, in which case we will spread over several locations and projects in order for the experience in this natural place to be as intense as possible. It also does happen that we are a much smaller group.

Is it dangerous to travel to Madagascar ?
Madagascar is a safe country to travel as long as you respect some rules of good conduct and common sense as in any other country. It is notable advised to avoid walking alone the streets at night in the cities. It is also best to avoid displaying signs of wealth like a smartphone or a camera.
You can also check the recommendations to ecotourists wishing to visit the Makay massif. These tips form the basis of the Ecotourism Charter for the New Protected Area of the ​​Makay, currently under preparation.

Can I arrive and/or depart outside the indicated dates?
If you decide to join later one of our missions or leave sooner than the scheduled dates, we can organise the necessary logistics matching your schedule. However we will not be able to provide the same level of reception and organisation by our teams that you would enjoy at the expected dates. In addition, you will be responsible of the additional costs of transportation between the Makay and Antananarivo (which can be shared with others on the same schedule).
We will do our best in order for your trip to be as smooth as possible, but do note that it will be more demanding. Joining us on the scheduled date is therefore recommended.

How can I be contacted?
Because the places we are going are especially remote, communications are not simple and it won't be possible to make easy call to friends and families back home. However for part of the mission, we will have mobile network coverage. And for safety reasons, a satellite phone reserved for emergencies will be at hand.

What vaccination do I need for Madagascar?
Recently, save for a necessary update of the DTP vaccine (diphtheria, tetanus, and poliomyelitis), no further vaccination is required. However some are recommended, like the vaccine against typhoid fever. Before joining one of our missions, please check with your doctor or a travel health certified clinic for more information.

What are the cancellation conditions?
Cancellation by the volunteer:
if the cancellation occurs more than 2 months before departure, there will be no cancellation fees and the volunteer will be completely refunded,
if cancellation occurs between 2 months and 1 month before departure, the deposit of € 800 will be retained,
if the cancellation takes place within one month of the departure, the volunteer will be ineligible for a refund and the totality of the payment will be retained, except in case of force majeure or proven medical reason.
Cancellation by Naturevolution:
In case of non-payment of participation fees one month before the mission, booking the ecovolunteer will be canceled and the deposit of € 800 retained,
Full payment will be refunded by Naturevolution in case of cancellation of the mission due to logistical reasons or other imponderables.
In fact, given the difficulty of access on site, Naturevolution reserves the right to cancel the mission, in particular in the case of force majeure, damage, or meteorological imperative, at any time prior to departure, without further obligation to reimburse fees paid to Naturevolution.
Such a cancellation doesn't entitle to indemnity. Therefore, Naturevolution asks the volunteer to take the necessary precautions (cancellation insurance, modifiable plane tickets) when booking flights to Madagascar, and will not accept any responsibility in case of extra costs incurred by the modification or the cancellation of transportation tickets for any reason whatsoever.
Cancellation risk insurance is recommended.

Is my trip tax-deductible?
To the extent that management fees and logistics (35% of total cost), and the plane ticket, help ensure the successful completion of your mission and that it aims to protect the environment, these costs are considered a gift. The remaining 65% are themselves purely a donation to our conservation program Makay massif.
The whole cost of the mission is thus deductible for your taxes up to 66% for an individual (capped at 20% of revenues), 75% if you are subject to the IFI (capped at 50,000 €) and 60% for companies (capped at € 10,000 or 0 5% of net sales whichever is higher).
For example, if you are an individual leaving on a mission to 3 weeks and if you find an airline ticket to 1000 €, your mission will cost after tax deduction, which (€ 2200 + 1000 €) - 66 % = 1088€.
If you are not paying taxes this year or if your payment exceeds the limits mentioned, tax deductibility can be carried forward up to 5 years after the donation.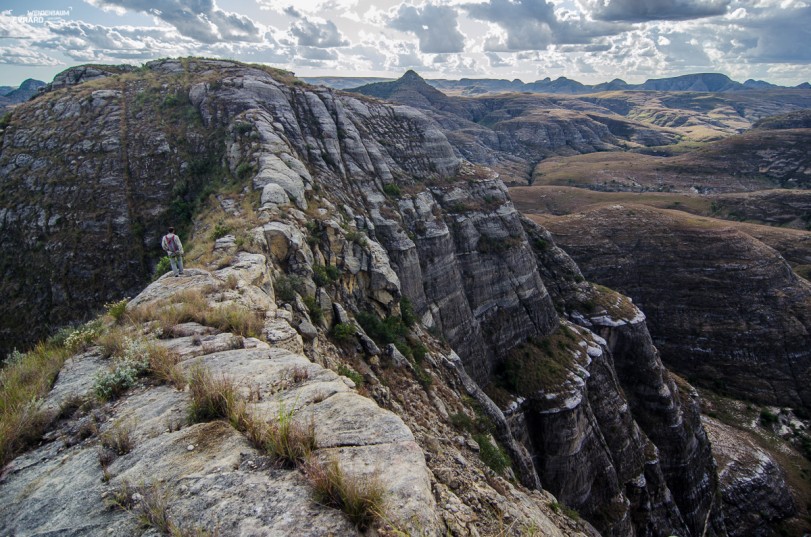 How do I register?
If you are interested in one of our ecovolunteers missions, thank you to complete the pre-registration form below. We will come back to you as soon as possible to explain you how our missions usually take place, give you the details on how to proceed before departure, a list of equipment to bring with you and give you all the details to benefit from tax exemption.
One more question ?
GAËTAN DELTOUR
Chargé de mission écovolontariat
Whatsapp +33 7 86 84 78 23
Facebook Messenger 👉 ci-contre