TEMOIGNAGE – Au printemps 2019, j'ai eu l'occasion de partir 5 semaines en mission scientifique dans le massif du Makay, Terra Incognita de Madagascar, encadrée par l'association Naturevolution. Ma principale mission fut d'étudier le comportement alimentaire d'une espèce de lemur, le Propithèque de Verreaux (Propithecus verreauxi), au cœur même des forêts luxuriantes de ce foyer de biodiversité, éloignée de toute civilisation.
However, this study began with a week in the villages. Rustic villages, poor living conditions, but where there was the joy of simple things. Being in contact with local brought me a lot and allowed me to live unforgettable moments. One of them touched me particularly ...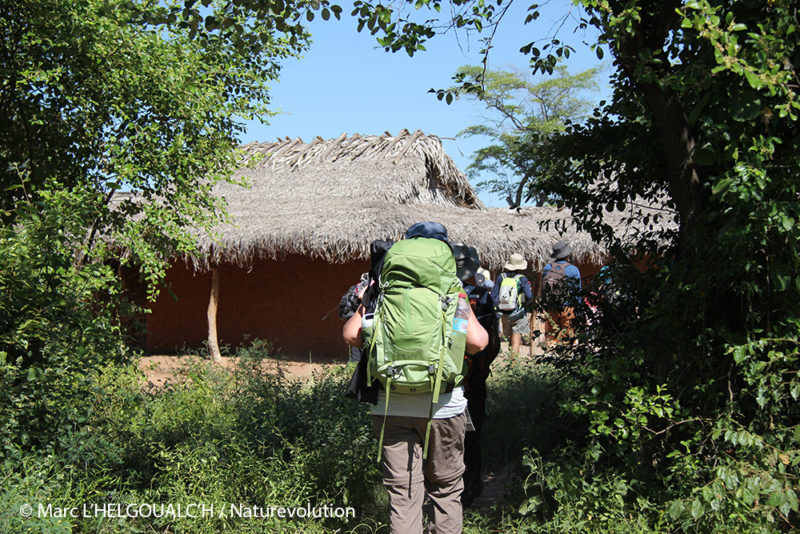 Friday, April 19, 2019,
8h15 dans le village de Tsiazorambo. On crie mon prénom. Je me dirige vers le son en courant, me préparant à une mauvaise nouvelle. On m'invite à rentrer dans une petite case du village, où commence alors un moment plein de magie … une naissance. Mon premier réflexe est de sortir afin de laisser de l'intimité aux membres de la famille. On me fait pourtant signe de revenir, m'expliquant que seules les femmes sont autorisées à assister à l'accouchement. Je me glisse donc dans un coin, ébahie par la scène se déroulant sous mes yeux.
It's a little boy ! An elderly woman is in charge of cutting the umbilical cord while another wraps the newborn in a sheet. The young mother looks tired by the effort done in silence, and in precarious conditions. I am asked to take photos of the event.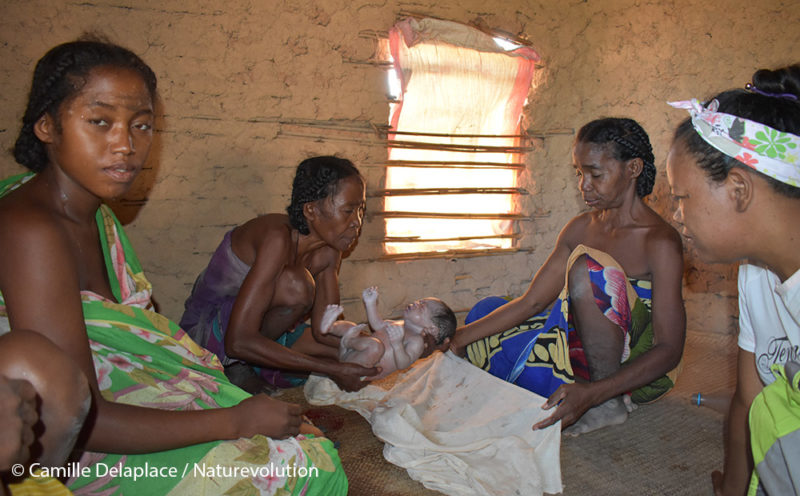 Pendant que je m'y affaire avec joie, on m'explique qu'aucun prénom n'a encore été choisi pour l'enfant car il est "fadi" (tabou) d'y réfléchir tant que la mère n'a pas accouché. Ce prénom doit donc être prononcé rapidement. Au souhait de la famille, c'est à la "vazaha" (l'étrangère, donc moi-même) de choisir. Je décline d'abord l'offre qui est une trop grande responsabilité, mais les femmes de la famille insistent. Je prends donc quelques secondes pour réfléchir à un prénom masculin signifiant quelque chose pour moi, mais également ayant un sens et une histoire pour eux.
Tous les yeux me fixent tandis que je m'efforce de faire vite. Mon choix est fait, j'ose … : LOUP. A la fois le prénom de ma petite sœur au masculin, mais également un animal sauvage fort et intelligent, des qualités utiles dans le milieu hostile au sein duquel ce petit vient de voir le jour. Le hasard faisant bien les choses, cette naissance est arrivée après une magnifique nuit de pleine lune, ajoutant de la force à ce prénom symbolique à la fois pour la famille, mais aussi pour moi.
Here I am now sponsor a small Malagasy. I am happy to have shared this very intimate moment honored gift that made me FANOMEZANTSOA family through this unusual responsibility and emotional link was created between us.
Since that day as special as it was unexpected, I received some news thanks to the few other passages missions d'écovolontariat. Loup was sick during his first weeks of life, the sun burns causing him and other skin problems. Today, it is much better and the family received in person the pictures of the birth I had sent them upon my return in France.
A Loup Fanomezantsoa,
I hope one day to recross your way on the majestic island of your country. In the meantime, I wish you much happiness and joy in life, strength and courage in this world, and all those around you. Your totem animal now watch over you and your godmother think of you ...

It sounded day,
Camille, la colonists.
Un témoignage par Camille Delaplace