TV – le film « Madagascar, au coeur du massif Makay » sera diffusé tout le mois de septembre sur Ushuaia TV.
Si vous avez manqué notre film « Madagascar, au coeur du massif Makay », diffusé sur Arte début 2019, vous pouvez vous rattraper sur Ushuaïa TV. Il y sera diffusé à 7 reprises en septembre et octobre :
Mardi 10 Septembre 2019 à 20:40

Dimanche 15 Septembre 2019 à 12:10

Mercredi 18 Septembre 2019 à 00:55

Lundi 23 Septembre 2019 à 22:35

Saturday, September 28, 2019 at 08:30
Thursday, October 3, 2019 at 12:00
Saturday, October 5, 2019 at 01:00 am
Sinon, vous pouvez aussi l'acheter dans notre boutique (en version numérique)
This adventure documentary was filmed during the expedition Makay 2017 4nd Naturevolution that led to the massive Makay to protect. And the projects are progressing well: launching a beekeeping project in 2018, a reforestation project in 2019, continued educational activities, Website of the New Protected Area of ​​Makay, Ecotourism charter travel agencies leading customers in the massive, strengthening our team in Madagascar and numerous field missions, often accompanied byecovolunteers !
These projects and many others are designed to ensure actual preservation of massif biodiversity and better living conditions for riverside communities. And you can imagine, all this costs some money ;-) So if what we do for the Makay Please be at our side to protect it and become a monthly donor Naturevolution. Thank you !
It was two years ago
Flashback on shipping in some articles and major results:
"Why Makay" recalls the importance of this massive in terms of biodiversity in Madagascar. An article by Julien Chapuis NatExplorers.
Observations and ornithological inventories were used to classify the massive Makay as 3nd largest reserves of birds of Madagascar, Especially for its prey. Re-listen to theinterview ornithologists shipping.
The presence of a second species of baobab, baobab Za, Was listed for the first time in the Makay. This is also a very beautiful scene of the film. To recall, on 8 species of baobab in the world, 7 of them are found only in Madagascar. Learn more about some species particularly sought by scientists.
The expedition helped update the list of species

présentes dans le massif du Makay : 1406 espèces animales et végétales, dont 90 nouvelles pour la science. Le Makay abrite notamment

283 endangered species, 5 "in critical danger of extinction".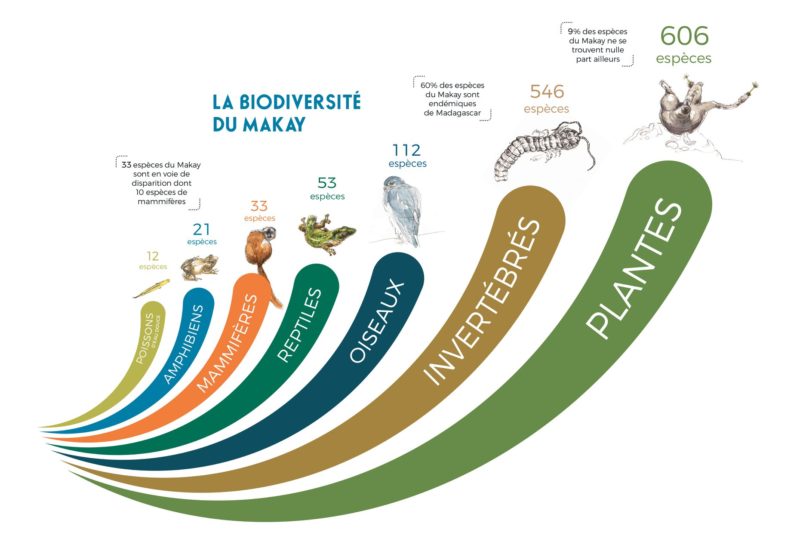 Last but not least, the expedition also led the finance manager of equities the protected area during the year 2017, and generated revenues a hundred porters, cooks trackers and villages on the periphery of the massif.