TV – le film « Madagascar, expédition en terre Makay » n'est plus visible sur Arte, mais il est disponible en VOD sur la boutique de Naturevolution.
Pour le voir, achetez-le sur notre boutique pour 10€. Le montant de votre achat est dédié intégralement à la protection du Makay.
Un film d'aventure au service de la préservation du Makay
This film was shot during theMakay 2017 Expedition, the 4nd led by Naturevolution in the Makay massif in order to get to know it better and protect it better.
The projects are progressing well: launching a beekeeping project in 2018, a reforestation project in 2019, continued educational activities, Website of the New Protected Area of ​​Makay, Ecotourism charter travel agencies leading customers in the massive, strengthening our team in Madagascar, and numerous field missions, often accompanied byecovolunteers !
These projects and many others aim to ensure a real preservation of biodiversity of the massif and better life conditions for local communities. And you can imagine, all of these projects cost a little money! So join us to protect it and become a monthly donor Naturevolution. Thank you !
It was three years ago
Flashback on shipping in some articles and major results:
"Why Makay" traces the importance of this massif in terms of biodiversity for Madagascar.
Observations and ornithological inventories were used to classify the massive Makay as 3nd largest reserves of birds of Madagascar, Especially for its prey. Re-listen to theinterview ornithologists shipping.
The presence of a second species of baobab, the baobab Za, Was listed for the first time in the Makay. This is also a very beautiful scene of the film. To recall, on 8 species of baobab in the world, 7 of them are found only in Madagascar. Learn more about some species particularly sought by scientists.

L'expédition a permis de mettre à jour la liste d'espèces présentes dans le massif du Makay : 1406 espèces animales et végétales, dont 90 nouvelles pour la science.




Le Makay abrite notamment

283 espèces menacées.

Cinq d'entre elles sont

« en danger critique d'extinction »

, comme le Sifaka de Verreaux, sans doute le lémurien le plus emblématique du Makay. Pour eux, il s'agit de la dernière chance de survie…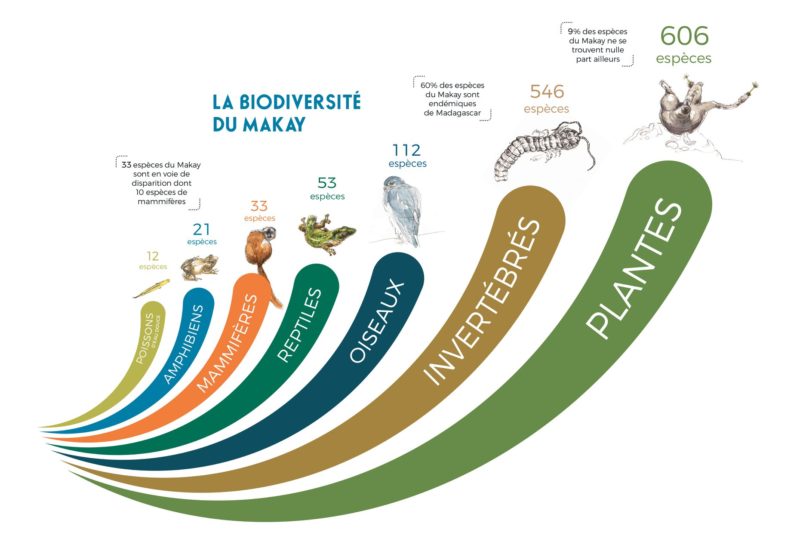 Enfin, l'expédition a aussi permis le finance manager of equities the protected area during the year 2017, and generated revenues a hundred porters, cooks trackers and villages on the periphery of the massif.