Naturevolution starts a reforestation project near the villages of Makay: the project 1 million trees for Makay ! But we could not launch this project without digging into the context of the forests of Makay, Madagascar and the world. Through 6 articles we take stock of the current state of deforestation, the commitments or actions initiated by the various governments, initiatives in terms of reforestation in particular in Madagascar and finally possible actions at your scale to fight against deforestation. . An entire program !
Introduction
Much of deforestation in the world results from the consumption of urban populations (Consuming or similarly) and the increase in their standard of living in a globalized economy where free trade agreements are proliferating. As Europeans, we are among the first affected.
A higher standard of living often results in increased consumption meat products containing palm oil, chocolate, gasoline and tires for the car, etc. Many of these products are associated with deforestation.
Deforestation caused by our consumption is said to be 'imported' because it is caused in other countries of the world: Places where deforestation is encouraged by the local government, is not opposed for lack of resources or political will. Unfortunately, these are country-there - such as Brazil, Indonesia and the DRC - which now contain the last great tropical forests of our planet.
If you are reading this article, it's a safe bet that you belong to that part of the world's population that is sufficiently fortunate (even if you don't feel it!) To have an impact on forests in the world. other side of the world. The good news ? Our power as Europeans to influence deforestation is only so much stronger! Overview.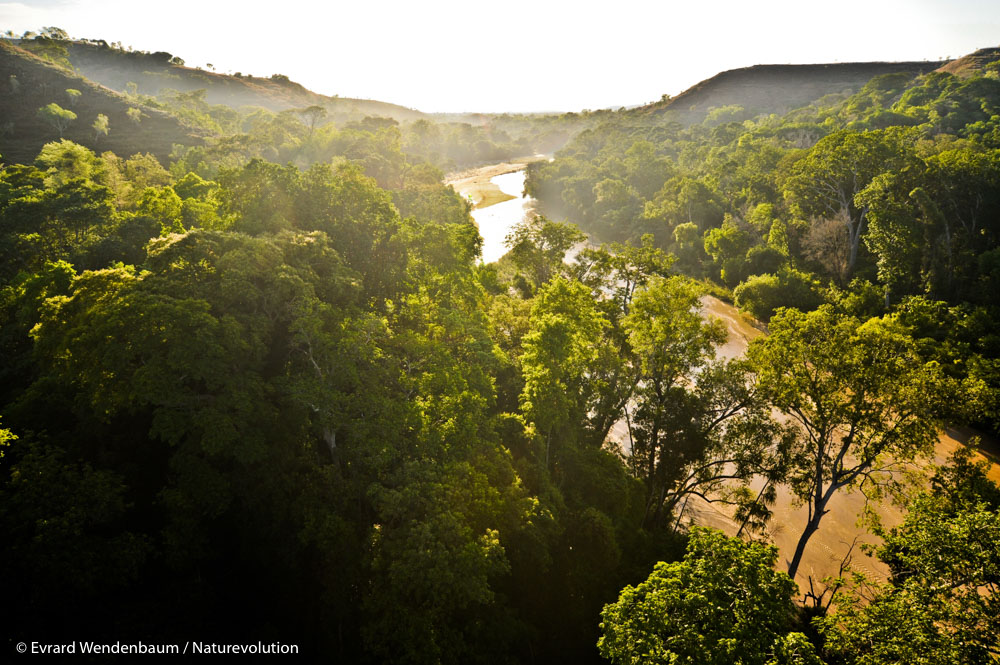 Devenir végétarien/végan (ou presque)
Cattle ranching and the cultivation of soybeans which are exported as animal feed to many countries around the world are the primary cause of deforestation in South America. According to Greenpeace, cattle breeding is responsible for the destruction of nearly 63% of the Amazon rainforestAnd the situation is worse now in large adjacent forest basins. At the World level, livestock is responsible for 73% of deforestation (FAO, 2020).
Much of this deforestation is attributable to Europeans who are the 2th world importer of soybeans. Yes beef and lamb have a completely disproportionate environmental footprint on the climate and that it is better to abandon them completely, European poultry are almost entirely fed on imported soybeans. Thus, the "deforestation impact" of French poultry is 6 times more important than that of beef. In short, there is no such thing as a 'replacement meat'.
Not convinced ? Read the full report from Greenpeace:
Meat bitten - Europe fueling the climate crisis by his addiction to soy.
A scientific meta-study published in the journal Science in 2018 and covering 119 countries, 38,000 farms, and 90% of all that is eaten around the world, gives dizzying figures on the impact of meat: globally, 83% of agricultural land is used for the production of meat and dairy products (83%!), All to produce only 37% of proteins and 18% of calories ... while generating 60% of greenhouse gas emissions from the agricultural sector!
The impacts considered by the study range from land use (deforestation, pesticides, loss of biodiversity and natural habitats, etc.) to emissions responsible for climate change, including water consumption and pollution ( water, air). Difficult to do more exhaustive. The study was little relayed in France but we find a detailed article in French here, as well as'a very complete article in English on The Guardian.
The study also points out that the 'meat manager' is not an alternative "meat and more sustainable 'dairy products (smaller impact) have a much greater impact than plants and less sustainable cereal."A conclusion that joined the findings of the Greenpeace report above.
It is worth noting some adverse effects of world trade: European meat, for example, largely fed with soya imported, exported itself. France, where red meat consumption decreases for more than 20 years, has obtained China the lifting of an embargo of 17 years on the import of beef: the French government hopes to export several thousand tons of beef French to China, while the free trade agreement with Mercosur plans to increase the import of beef from South America! Which brings us to the next point: l'action du gouvernement et les moyens pour les individus de peser dessus.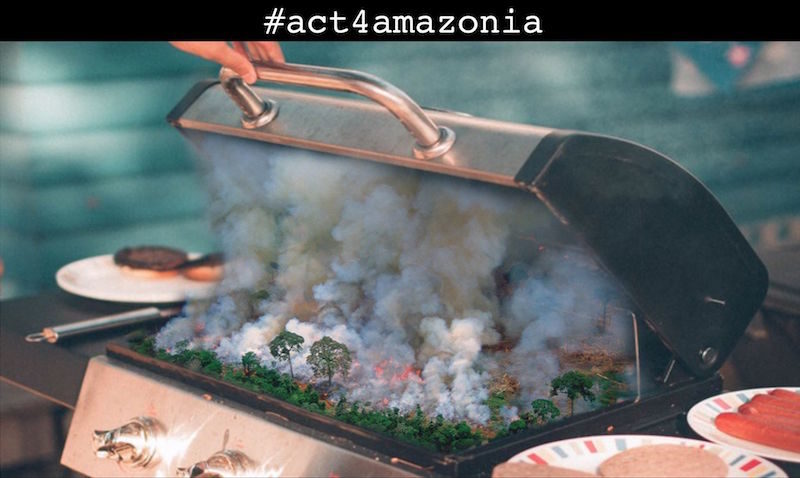 Influence public decisions
Via les élection : voter, et pas pour n'importe qui :)
It laments in France of government inaction on environmental and climate issues. But voters continue to bring to power candidates and political parties that do little in climate-term defense and biodiversity. Emmanuel Macron and LRM carry a liberal agenda that aims to sign more free trade agreements (Lately CETA with Canada and the agreement with Mercosur), and therefore increase global trade instead of promoting local. Their commitments in terms of climate and biodiversity are not at all the stakes in progress.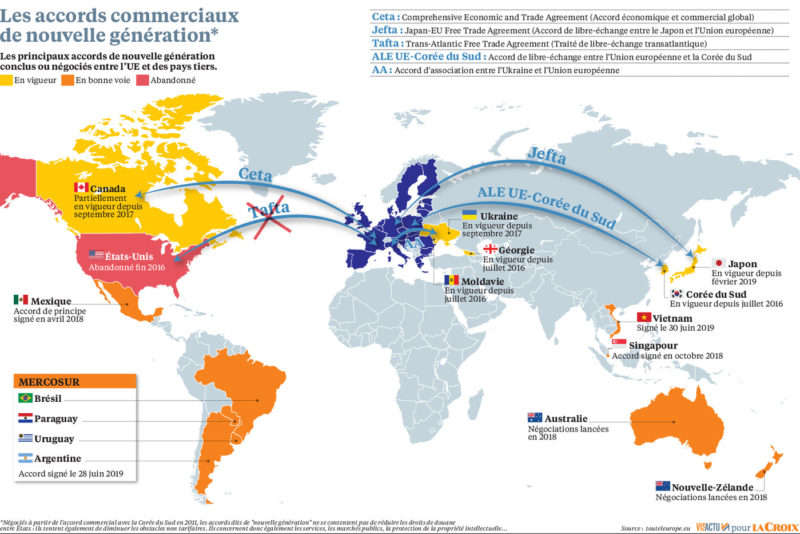 Even following Nicolas Hulot's resounding resignation, the European elections continued to favor LRM and the National Rally (ex-FN). The EELV score, although acclaimed, was only around 17% and other political parties (PS, LFI etc.) that have a solid environmental agenda have done even less. So remember that the elections are one of the ways to make a difference, and that the environment is the most important subject of the 21st century.
Via justice
Tired of waiting for the realization of political commitments on environment, citizens' groups took the case to court in several countries: the Netherlands (! successfully), Colombia, South Africa, etc. In France, four NGOs (the case of the century, the FNH, Greenpeace and Oxfam) decided to attack the French state to trial to meet its climate change commitments and protect our lives, our lands and our rights: add your signature to the deal of the century.
recognition the crime of Ecocide - A global movement (especially European) defends the legal recognition of the concept ofecocide, or of environmental crime, which would provide many more legal means to bring states and private companies to justice for environmental damage. Find out more here: the website End Ecocide on Earth and the entrance Ecocide on Wikipedia.
Via activism
The great advances in the field of the environment or social rights have been obtained by small groups of motivated individuals who have been able to bring together and put pressure on politicians and private groups, through various methods, notably through the media. Going into detail is not the purpose of this article, but the fact remains that Activism is one of the most effective ways to achieve significant progress. There are local groups across France and Europe, focused on various environmental causes. There may be mentioned local groups of Friends of the Earth and movement Extinction Rebellion. Also discover The map of struggles to discover the large useless and harmful projects near you (some have links with deforestation in the world, others with the climate or even natural environments and biodiversity in France).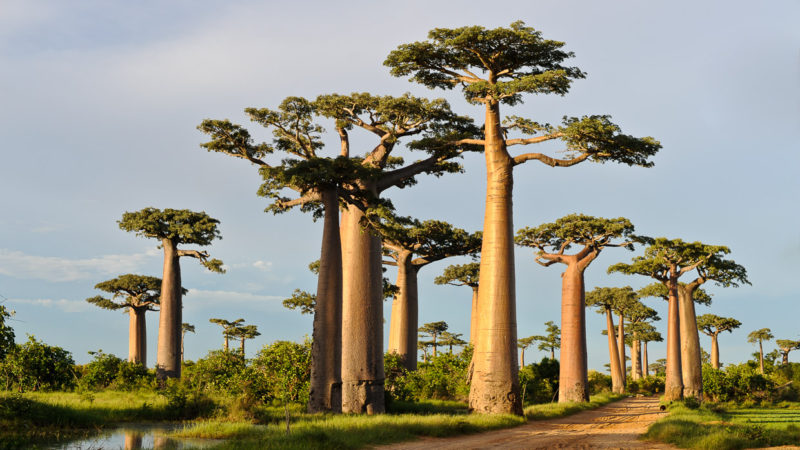 Change bank
Banks have a huge share of responsibility dans la crise climatique et la destruction des forêts par leurs investissements. L'ONG Global Witness a mené a survey on the role of French banks in deforestation : it appears that "since the adoption of the law on the duty of vigilance in 2017, three French banks - BNP Paribas, Natixis and Crédit Agricole – soutiennent des entreprises associées à la déforestation ». L'association française Canopée incrimine notamment BNP Paribas qui soutient le 'soja de la déforestation' en Amérique du Sud à hauteur de plusieurs milliards de dollars.
Between 2013 and 2019, the French financial sector supported five of the six most harmful agro-industrial companies (...), directly or indirectly involved in deforestation activities in the three most important tropical forests in the world, namely the Brazilian Amazon. , the Congo Basin and Papua New Guinea. This support, to the tune of almost 2 billion euros, makes France the second largest contributor of funds to these companies across the EU. - Flaming finance, Global Witness
These are often the same ones that make the climate crisis worse : a study published by Oxfam and Friends of the Earth indicates that "the investments of 4 French banks (BNP Parisbas, Crédit Agricole, Société Générale, BPCE) produced 4.5 times more C02 than the whole of France in 2018."
It has never been easier to change banks and transfer their accounts, for example to Cooperative Credit (current accounts and savings accounts) or to The nave (savings booklets). There is also a new initiative, Helios, but that we didn't dig.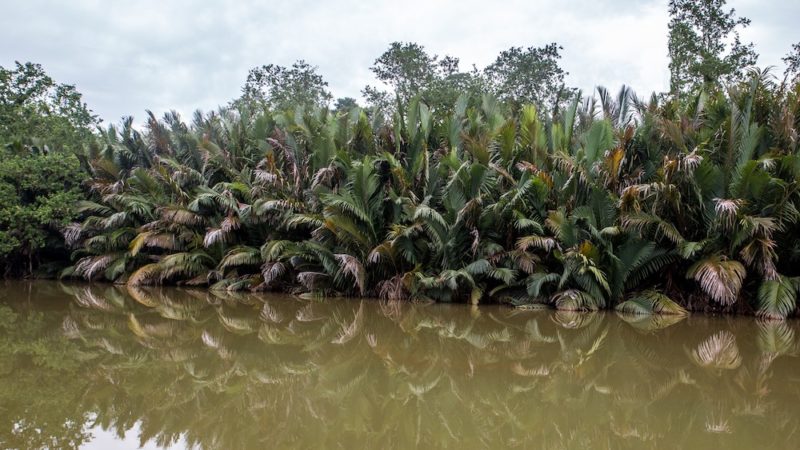 Support forest protection projects
Voting with your wallet, with your ballot and reducing your consumption are powerful actions that we as Europeans can do every day. But it will not be enough! Many NGOs are developing excellent projects on the ground to preserve the existing forests as best as possible, reforest to reduce the pressure on them, and develop projects that benefit both biodiversity and local communities. But nature conservation receives only about 3% of global philanthropy and NGOs - including Naturevolution - are chronically in need of funding to carry out their projects.
After installing projects around economic activity (apiculture, ecotourism) and social (education, school gardens) Naturevolution launches in 2019 the "Forests Villageoises" reforestation project around the villages of Makay as to reduce pressure on forests of the massif, as providing resources to communities. So, make a donation to help us! preferably monthly ;-)
Chocolate and palm oil
Yes, chocolate! World demand for cocoa term is increasingly a driver of deforestation. If deforestation is in total area, the largest in Brazil, it is the cocoa that is causing stronger acceleration of deforestation in 2017 and 2018. They are held up in national parks West Africa ! Read about the excellent report by French NGO Mighty Earth The bitter chocolate deforestation or watch the episode Bitter Chocolate from the Rotten series on Netflix.
France Nature Environnement partnered with Mighty Earth to produce a ranking of the best known brands. You can also sign a petition more the most effective is to act on the request.
Palm oil is itself responsible for nearly 20% of deforestation in the world and is at the expense of the last primary tropical forests in Indonesia and, increasingly, in the DRC. It should be noted that palm oil is hidden in many products and is sometimes invisible on ingredient lists as denounced by the NGO Foodwatch which demands more transparency in the labels (petition). Finally, thanks to Total and the French government, palm oil is also hiding in the tank of your car!
It is not necessarily advisable to ban palm oil and replace it with another oil (which could have a worse impact on the environment), but it is necessary to reduce its level of consumption as much as possible, and try to avoid ensure its provenance. A difficult task in 2019. You can also sign the Greenpeace petition against deforestation in Indonesia linked to palm oil.
Car tires
Natural rubber production has exploded since 2000 with a 75% increase in its world production, notably through the manufacture of tires (70% of catouchouc production is devoted to it). It is one of the main drivers of deforestation in Indonesia, Malaysia and Thailand as the WWF and Mighty Earth.
What to do ? To take less the car to start (which also reduces our consumption of palm oil), but also to buy only tires with a good index of wear to maximize their durability, or tires reconditioned and made in France, or request certification (FSC or equivalent) of the rubber in these tires.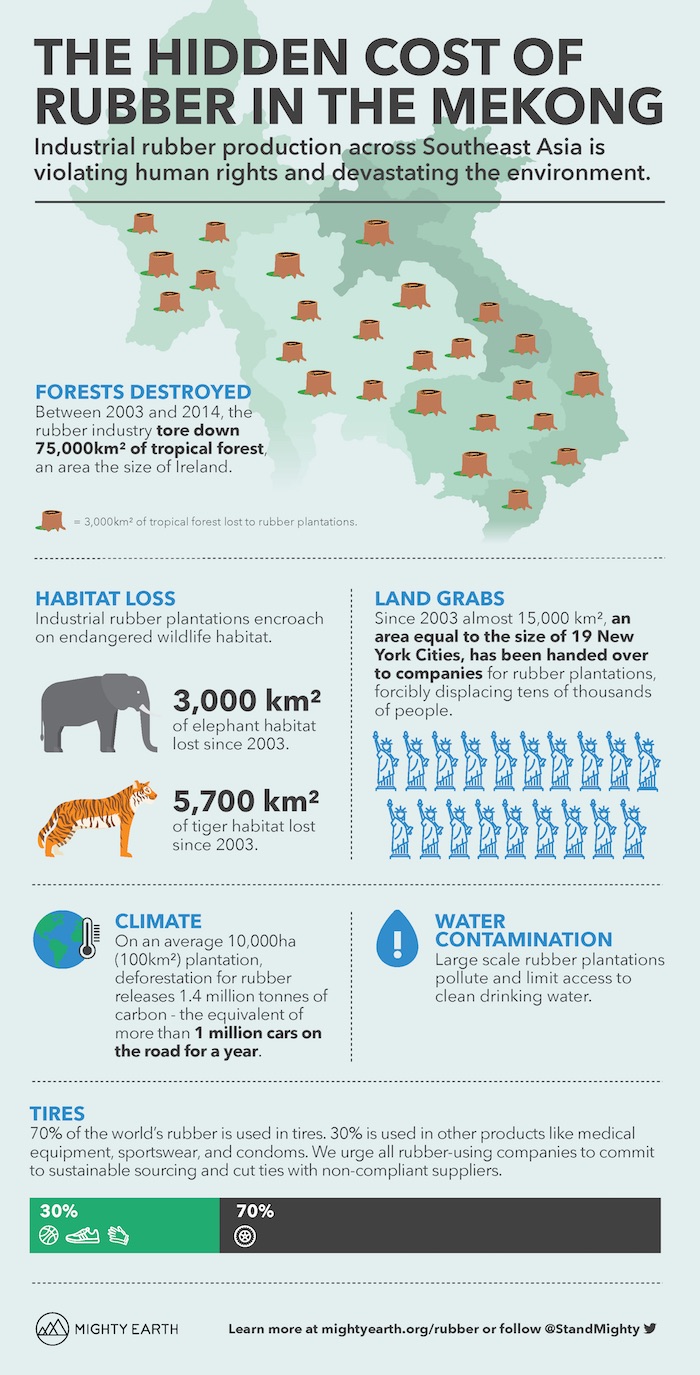 And the rest: leather, paper, wood, etc.
Le cuir, le papier, le bois et autres commodités ne sont plus les principaux moteurs de la déforestation au regard des autres menaces, mais ils y contribuent.
Le cuir - Leather is sometimes almost more the engine of intensive breeding than the meat itself. Leather is largely responsible for deforestation in South America, and the processing of hides uses highly toxic products that are often released into the environment. Workers working in tanneries are exposed to extremely toxic pollution.
Paper - If you have prints to make at home, or to order on behalf of your company, choose certified papers, but not with any labels. Choose 100% recycled papers or papers with FSC certified virgin fibers. It is best to have papers that associent 2 certifications ou plus, comme le label FSC, le label Blue angel ou l'Écolabel Européen.
The Imprim'Vert or PEFC labels often put forward in France offer very few guarantees as these labels have been set up by, respectively, printers and paper manufacturers themselves.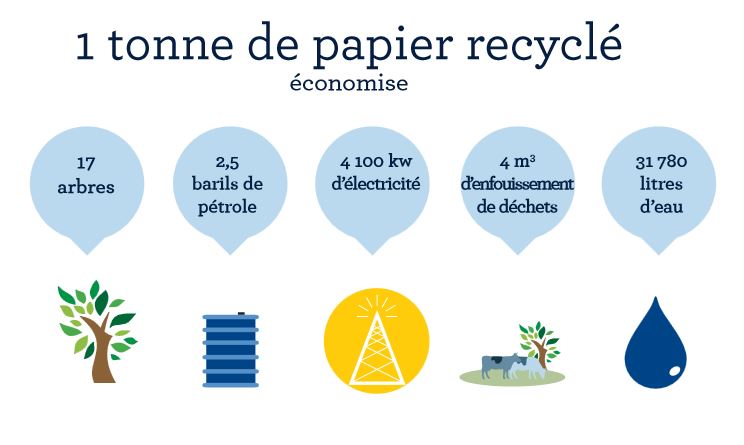 Wood - For the purchase of wood (flooring, furniture, outdoor furniture, etc.), choose FSC certified wood. In the absence of this certificate, opt for furniture made from local wood species (beech, oak, chestnut ...) and short circuits. Greenpeace gives some additional tips on this page.
The limit of individual actions
Let us extend the question to the climate crisis and to that of biodiversity as a whole: Eat less meat, take less airplanes, ride a bicycle and other 'small' individual actions ... will it be? sufficient pour sauver le climat et la biodiversité ? Pas complètement, d'une part parce qu'il est utopique de penser que tout le monde appliquera ces gestes, d'autre part car des changements aux racines des problèmes sont nécessaires et que celles-ci sont souvent hors d'atteinte par les gestes quotidiens (d'où la nécessité de l'activisme, de voter et de porter gouvernements et entreprises en justice).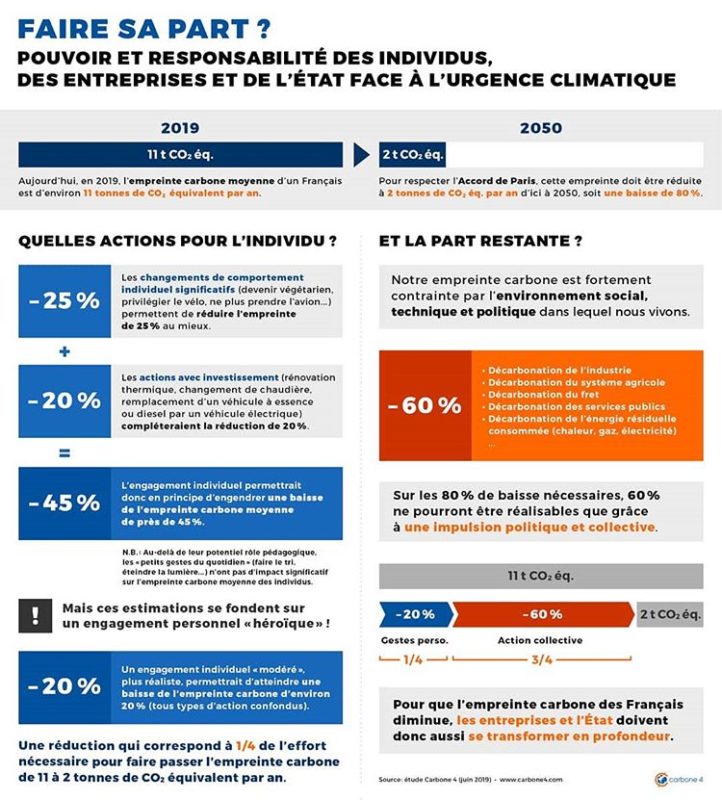 Mais faut-il pour autant ne rien faire, en se disant que « ça ne sert à rien » ? Bien au contraire ! Behavioral changes are necessary. The most impactful of them help mitigate the gravity of the situation. For example, between 1990 and 2010, the only consumption item of the French that saw its carbon footprint decrease was food, thanks to the significant decrease in the consumption of red meat, a decrease linked at the time to health scandals and to health concerns (read letter Carbone 4 orArticle from terraecO), but increasingly motivated by climate and forest protection.
Above all, make a choice of consumption or non-consumption is a way of change its relationship with the worldTo become aware of its impact and to push the reflection further. Studies have also shown that changes of opinion and behavior in the population reflected by changes at the political level. And of course, it must involve individual gestures to other means described in the above paragraphs'Influence public decisions'And'Supporting a reforestation project'. Everything starts with us!
Our Partners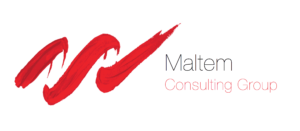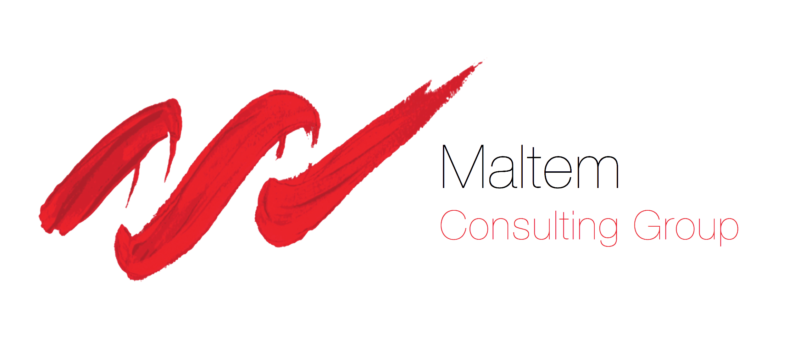 Initial funding to the tune of € 10,000 was obtained from Ermada - Sale of Malagasy handicraftsEnabling the launch of Village Forestry Project. Maltem is an ecosystem of specialized consulting companies in the digital transformation and sustainable innovation, and a partner of Naturevolution since 2016.
The entire series of articles
An article proposed by Gaëtan Deltour and Yann Bigant